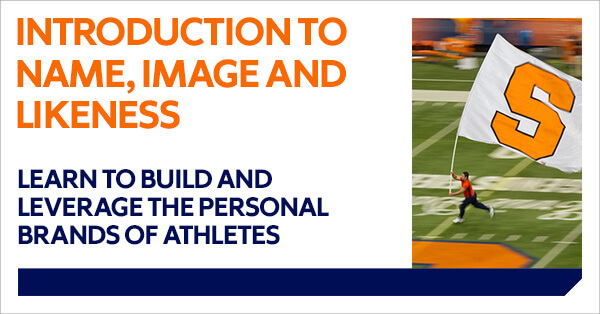 Last year, a patchwork of states started passing laws mandating that college athletes were allowed to profit off their images. After asking Congress to pass a uniform set of rules (it didn't), the NCAA threw up its hands and said that starting July 1, 2021, all college athletes could benefit financially from their name, image and likeness.
David Meluni, sport management faculty at Syracuse University, will be leading the online seminar. Attendees will be introduced to concepts involving how to build a brand and ultimately monetize opportunities. This will include an Instagram analysis of a current collegiate athlete to provide participants guidance about how to approach brands to secure deals.
Critical points that are important to implementing the NIL model will be covered, including:
Why athletes must build their personal brand
Your messaging, your story, and your values
Followers + Engagement = Everything you Need
How to use and leverage social media platforms
The 4-week online seminar meets virtually one evening per week and starts October 6. The application deadline is September 30. The cost is $244 to attend. For Syracuse University alumni, staff, faculty and students, the cost is $195 to attend.
To learn more or register for the seminar, visit the College of Professional Studies website.