Last year, a patchwork of states started passing laws mandating that college athletes were allowed to profit off their images. After asking Congress to pass a uniform set of rules (it didn't), the NCAA threw up its hands and said that starting July 1, 2021, all athletes could benefit financially from their name, image and likeness.
The online seminar will include an introduction into the model of Name, Image and Likeness (NIL). Attendees will be introduced to concepts involving how to build a brand and ultimately monetize opportunities. This will include an Instagram analysis of a current collegiate athlete to provide participants guidance about how to approach brands to secure deals.
Critical points that are important to implementing the NIL model will be covered, including:
Why athletes must build their personal brand
Your messaging, your story, and your values
Followers + Engagement = Everything you Need
How to use and leverage social media platforms
Session

Class Fee

Course Information

Class Code for Registration

Open Enrollment

$244

UCN 533 U001

18906

Open Enrollment – Syracuse University
Alumni/Staff/Faculty/Student
$195

UCN 533 U002

18907
Questions? Contact Allison Roth at amroth@syr.edu
Fall, 4-week : 10/6/22 – 10/27/22
Application/Enrollment Deadline: 9/30/22
100% Financial Drop Deadline: 10/5/22
Online Course Meeting Time:
Thursday, October 6 – 6:30 – 8 p.m. EST
Thursday, October 13 – 6:30 – 8 p.m. EST
Thursday, October 20 – 6:30 – 8 p.m. EST
Thursday, October 27 – 6:30 – 8 p.m. EST
Learning Outcomes:
Upon completion of this seminar, participants will be able to:
Describe critical concepts for why, and how, to build a brand and build engagement for athletes moving forward.
Recall the approaches to how an athlete can monetize opportunities, such as (but not limited to): sponsorship, camps, merchandise, speaking and social media
Technology Requirements:
Laptop or desktop computer with a webcam and mouse
Reliable internet access
A space conducive to taking an online class
A free Canva.com account
Free PowerPoint or Google Slides
---
Instructor Bio:
David Meluni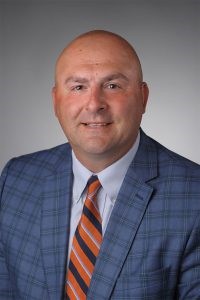 Meluni joined the Sport Management faculty at Syracuse University full-time in 2018 after having spent the previous four years as an adjunct professor in the department.
Meluni has over 20 years of experience in the sport industry, including two years as Vice President of Sales and Business Development for both 805 Stats and Infinity Sports and Entertainment. He spent five years as the Vice President of Sales at SIDEARM Sports, where he negotiated and signed agreements with the University of Texas, University of Kansas, the Heisman Trophy, and the Maui Invitational as well as hundreds of Division I, II and III institutions.
Prior to working in the digital space, the Syracuse native spent 10 years with IMG College, the multi-media rights holder at Syracuse University, where he maintained a client base of over $1.1 million per year.
Meluni earned his Bachelor's Degree from Ithaca College in Sport Management, where he was captain and NCAA All-Region infielder for the Bombers' baseball team. In 1999, he was selected to attend the prestigious NCAA Leadership Conference. He then attended Florida State University as a Graduate Assistant in the Seminoles' ticket office, and earned his Master's Degree in Sport Administration in 2001. He then worked as a Marketing Assistant at FSU, assisting with football, women's volleyball, men's basketball, baseball and softball before moving back to Syracuse.
Meluni is an officer with the New York Collegiate Baseball League, serves on the board for the Camillus Softball and Baseball Association, coaches travel teams for the Camillus Wildcats and Sports Zone, and is a volunteer assistant coach for the West Genesee varsity baseball team. He lives in Warners with his wife Kristina, and their sons Landyn and Nicholas.