Listening to the Authentic Spiritual Self
August 25 – 28, 2023 at Minnowbrook Conference Center, located on Blue Mountain Lake in the picturesque Adirondacks!
This 3 ½ -day healing & wellness program provides an indigenously inspired view of the nature of being human in this 3-dimensional world. Diane and Jordan masterfully weave their unique and innovative healing perspectives with you. They will share traditional and contemporary indigenous healing practices to help individuals dismantle their trauma patterns and hidden obstacles we have all accumulated because of innate responses to difficult and painful experiences of our lives. The trauma informed process they share, acknowledges ones past while helping the person step into their personal power and clear the way to reach tomorrows goals with more self-awareness, ease, and clarity.
By attending the 3 ½ -day healing and wellness program, you will:
Learn Indigenous healing practices.
Focus first on the self, and how to share and support others.
Explore the background of indigenous cultural practices.
Learn how to get started with personalized rituals and tools for your own growth and healing.
Gateway for taking the next step with deeper ceremonial practices.
An indigenously inspired view of the nature of being human in the 3-dimensional world.
Facets and application of the practices as a basis for trauma-informed care.
Fostering Emergence of the Good Mind is an energetically-referenced, emotionally-focused, body-based approach to healing and wellness drawn from a traditional Native healing methodology rooted in the story of Tadodaho; the man with the hair of snakes who was cleansed and healed by the Peacemaker and his delegation.
*Please fill out the interest form if you would like to enroll in this workshop. Full Registration will open up by June 1st, and those who have filled out the interest form will be contacted first.
__________________________________________________________________
Program Dates: Friday, August 25 – August 28, 2023

Location: Minnowbrook Conference Center, 355 Maple Lodge Road, Blue Mountain Lake, NY 12812
Minnowbrook Conference Center is located in the heart of the Adirondack Mountains, roughly 3 hours from Syracuse Hancock International Airport, and 2 hours from Albany International Airport. Please consider renting a car for your scenic journey to Minnowbrook. Detailed directions can be found here – https://minnowbrook.org/about/directions/
___________________________________________________________________
All Inclusive (includes tuition, room, meals): Rates range from $2,195 – $2,695 per person depending on room type
*It is required that all attendees stay onsite at Minnowbrook throughout the program.
*Premium accommodations are available at a higher rate, as shown above.
___________________________________________________________________
In addition to the Program content and material, this rate includes all meals (breakfast, lunch, dinner, snacks), nonalcoholic beverages, parking at Minnowbrook, overnight accommodations, recreational equipment (kayaking, canoeing, volleyball, swimming, etc.), walking trails, and complete access to the Blue Mountain Lake shore.
Questions – Contact Allison Roth at microcredential@syr.edu or 315.443.4889
___________________________________________________________________
Instructor Bios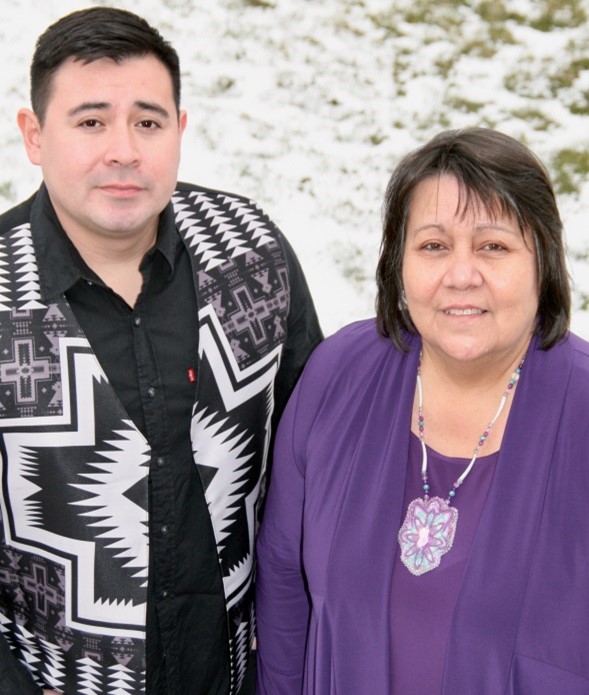 Co-Presenter/Lead Program Instructor: Diane Katsitsawaks Hill
A member of the Bear clan of the Mohawk Nation situated at the Six Nations of the Grand River (Haudenosaunee) Territory in Ontario, Diane works as an Integrative Programs Consultant and administrates the R.E.A.L. School (Reality Education & Applied Life skills) Leadership Program at: www.getrealschool.com Diane is also the Director, Owner & Operator of a private Healing Lodge & Learning Center entitled Ka'nikonhriyohtshera: Fostering Emergence of the Good Mind. She travels extensively both nationally and internationally in the delivery of these innovative healing and wellness programs. All programs are situated in the context of an Indigenous worldview and incorporate recent research and discoveries drawn from the quantum sciences. For more info, please visit her website at: www.dianehill.net or contact her via email at hill.diane.13@gmail.com
Co-Presenter: Jordan Teshakotennyon's Miller
A member of the Mohawk Nation, Bear clan situated at the Six Nations of the Grand River Territory, Ohsweken, Ontario, Jordan is the founder and visionary of the R.E.A.L. School Leadership program featured at www.getrealschool.com Throughout the years, Jordan has assembled an impressive portfolio of interesting life, work and educational experiences stemming from a wide variety of creative activities. He is a Gen 7 – Role Model Alumni for the Motivate Canada Youth Program promoting healthy lifestyles through sport and recreation and currently works as a Lead Program Animator for R.E.A.L. School (Reality Education & Applied Life skills). He is an "out of the box" thinker with a strong vision and desire to create a multi-dimensional program for personal empowerment geared towards multi-cultural and diverse populations. To contact Jordan, please email him at: miller.jordan22@gmail.com