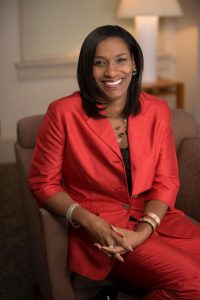 Monica Brown spent 20 years working in the field of social work, but it was only when she earned her degree (B.S. in Social Work) that she felt she became a marketable professional. "Most employers want more than just experience, and having a college degree is essential in today's workplace," she asserts. "It was shortly after I graduated from SU through University College that my CEO approached me with a proposal for a promotion."
Monica discovered that almost every day, she applies something she learned as a part-time student to her work as a marketing representative at Tully Hill Chemical Dependency Treatment Center. "I could be meeting with potential patients, therapists, doctors, nurses, human resources personnel . . . I'm always applying skills without even meaning to. It's a natural part of what I do," she says.
Completing a degree in her 40s wasn't easy, but Monica found the support and encouragement she needed in the UC staff. "I believe the 'person-centered approach' was developed by the advising staff at University College," she exclaims.  "They truly rock! Their feedback and guidance was instrumental when discussing and processing how to juggle work, family, and even a personal crisis. Everyone was so supportive, and I could be my true, honest self when meeting with any of them."
Best of all were the career advancement opportunities afforded her by her degree. "Completing my degree was a significant factor in me being appointed to my current position," Monica says.