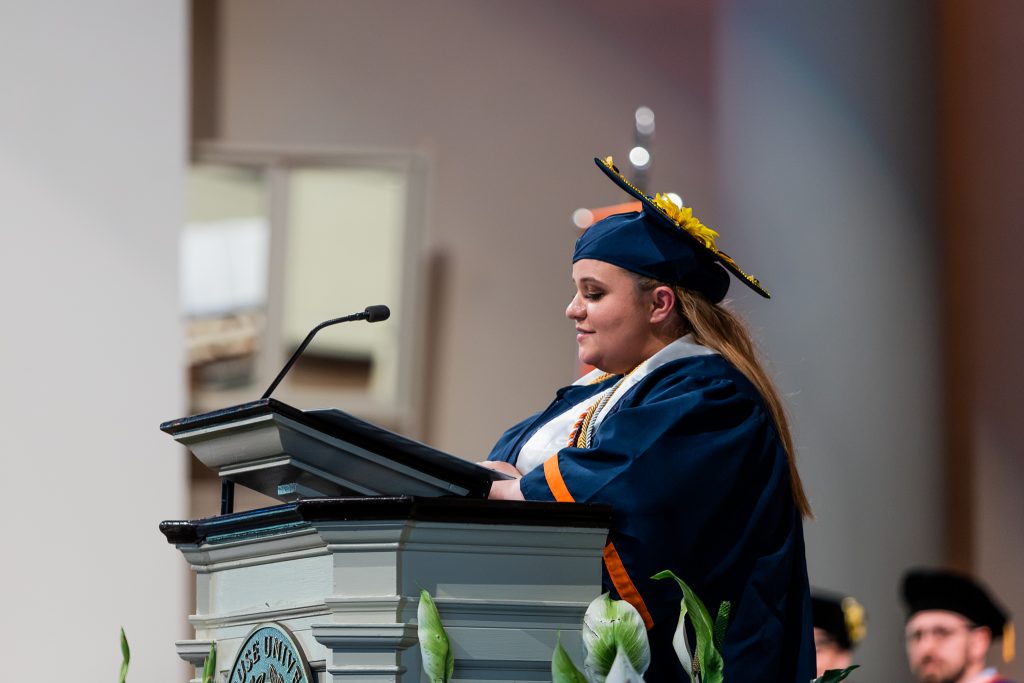 Tamrie Oliver '23 retired her putty knife after spackling her living room walls for the final time. The sun crept through the windows, casting a spotlight for Oliver to examine her work. Each groove would soon be sanded down and splashed with a layer of "Glamour," a paint mixed with tints of light pink and soft brown.
Although it took 350 hours of sweat equity, Oliver was finally seeing her vision come together. Not just in her home that she was building through Habitat for Humanity, but in life itself. From raising three children as a single mother to attending college part-time at Syracuse University's College of Professional Studies, Oliver could envision the next phase of life approaching—the one she spent ten years preparing the blueprint for.  
"I once heard someone describe a student who studies online as a nontraditional student. Over the course of my life, the phrase 'nontraditional' has always followed me," Oliver said.
Phase One: Preparing the Blueprint
It was three months before Oliver's high school graduation when the term nontraditional began to cling. Oliver, a spunky 18-year-old ready to embark on adulthood, stared at a positive pregnancy test. A cluster of emotions bubbled in her chest as she realized her life was taking a nontraditional route.
Filled with anxiety about what motherhood would mean, Oliver enrolled in community college and held tightly onto the lingering moments of a normal teenage life. Like lightning, a nontraditional occurrence struck again when Oliver delivered her baby at only 26 weeks. With a 2-pound newborn in the neonatal intensive care unit (NICU), Oliver was forced to take a medical leave of absence.
College would have to wait.
Soon after, Oliver gave birth to her second child at 25 weeks. This time, she would have to juggle raising a baby at home, working overnight shifts, and commuting 45-minutes to visit her newborn in the NICU.
College continued to wait.
Three years went by, and Oliver was now a single mother of three children. As her family continued to evolve, Oliver knew she wanted more for them. It would require taking a step backward and moving into her parent's home, but it was time for Oliver to finally attend college. Two years later, Oliver graduated with an associate's degree in business management. Although delighted that she obtained a degree after an unexpected hiatus, Oliver couldn't help but feel that this was merely the blueprint for the goals she wanted to achieve. If she wanted to build a better future for her family, she needed to lay the foundation.
Shortly after, Oliver enrolled in the College of Professional Studies at Syracuse University.
"I was shocked that Syracuse offered bachelor's degrees online. I called immediately to make sure it was real," Oliver said. "After talking with an advisor, I chose to study a bachelor of professional studies in creative leadership."
Phase Two: Building the Foundation
From 6 a.m. to 2 p.m., Oliver would go to work, while the remainder of the day was spent taking classes online. Oftentimes, Oliver's children could be seen peeking through the bedroom door while they watched their mother attend class through a video camera and computer screen. Oliver's father corralled the children back to playtime so she could focus on her studies. It was a controlled chaos, and Oliver was thankful for it, but she knew it was time to move into a space just for her and her children.
With one degree completed, another in progress, the kids a bit older, and Oliver a bit wiser, she knew this was the perfect time to build a house through Habitat for Humanity, a home-buying program for low-income homebuyers.
The program required 350 hours of sweat equity, which Oliver tackled each weekend from 7 a.m. to 3 p.m. Oliver spent her time installing drywall, painting the interior, and dodging splinters from the raw wood, while the other home building volunteers and professionals focused on the more advanced work.
When moving day arrived, Oliver's vision finally came to life. She took in the freshly painted walls—the ones she spackled, primed, and coated with pigment herself. Oliver felt a sense of pride unlike any other.
"Habitat for Humanity had this whole ceremony when the house was completed," Oliver said. "Building a house while going to school and raising my children was a big accomplishment. I felt really proud."
With another goal completed, it was time for Oliver to finish her degree. Tucked away in her newly decorated office nook, Oliver continued to attend classes online. A tapestry hung behind her, replicating the set of Oliver's favorite YouTube show, "Good Mythical Morning," which depicted a mid-century modern aesthetic combined with a collection of random trinkets, instruments, and forest print wallpaper. Surrounding her computer were various awards, ones that reminded her of the goal she was working towards.
"I kind of tried to put in a little bit of everything. I like to show my personality through the camera," Oliver said.
Phase Three: Movin' on Up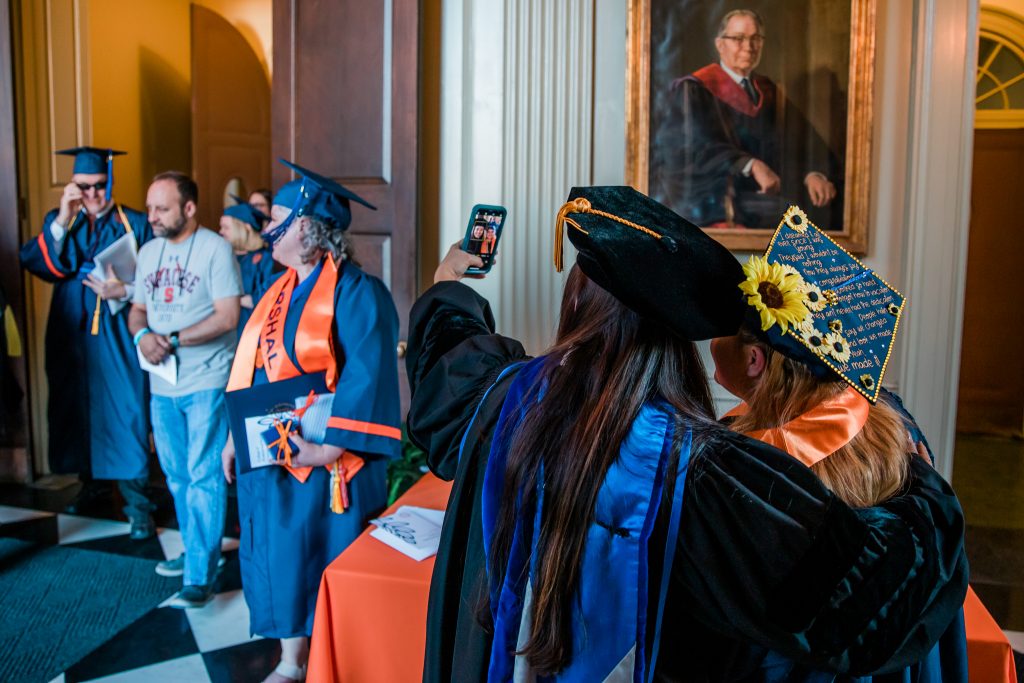 Although she was online, Oliver felt connected to her cohort. Classes conducted through video calls offered a different kind of enrichment that still allowed Oliver to interact with her peers and professors. She connected with other post-traditional students, learning that their life experiences and wealth of diverse perspectives were celebrated. Suddenly, Oliver's nontraditional life felt empowering. The adjective now held a positive connotation, and she was proud to be a nontraditional student.
"When my academic journey first began, I felt like I didn't really have confidence or a voice," Oliver said. "But I've proven myself. I'm the first graduate of my family." 
Oliver closed out her courses for the last time and soaked up the excitement of the unknown. The possibilities of the what-ifs circulated in her mind as she felt blissful knowing she had accomplished what she set out to do ten years ago. The obstacles Oliver endured, academically and personally, allowed her to grow into the best version of herself. Now, it was time to pass the wisdom on to her children.
---
By Hope Alvarez