Pre-College Starts Here
Syracuse University's Office of Pre-College Programs offers high school students the opportunity to explore potential college majors and careers. You'll not only learn what it's like to be a college student, you'll leave the program feeling more confident, enthusiastic and ready for college.
---
Summer College – On Campus
Students who attend Summer College – On Campus are immersed in the full college experience. They take a college-level course, live in a residence hall, have meals with friends in a dining center and participate in field trips, college tours and activities on campus.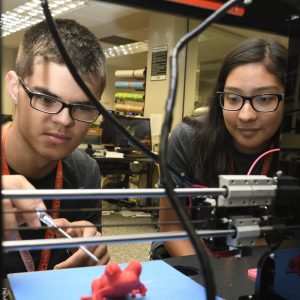 ---
Summer College Online
As a Summer College – Online student, you'll have the unique opportunity to explore potential majors and pursue academic interests from the comfort of home—or from anywhere life takes you. You will take part in high-level instruction, have access to virtual campus offerings, and be welcomed into an engaging and supportive online community. Instruction consists of synchronous content in the form of live video classes with Syracuse University faculty or instructors, and asynchronous content that may include videos, guest lectures, virtual field trips, demonstrations and events.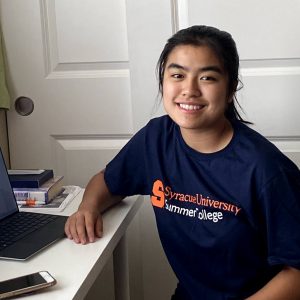 ---
Accelerated Semester Online
Enroll in an online college course while you're still in high school. Eight-week courses are open to high school students who want to get ahead during the fall or spring semesters. Each week, you'll participate in one 90-minute synchronous (live) session with the course instructor. You'll also have 8-10 hours of asynchronous work per week, which may include watching videos, reading and completing assignments. All high school students enrolled will receive advising and support from the Online Student Success Team.