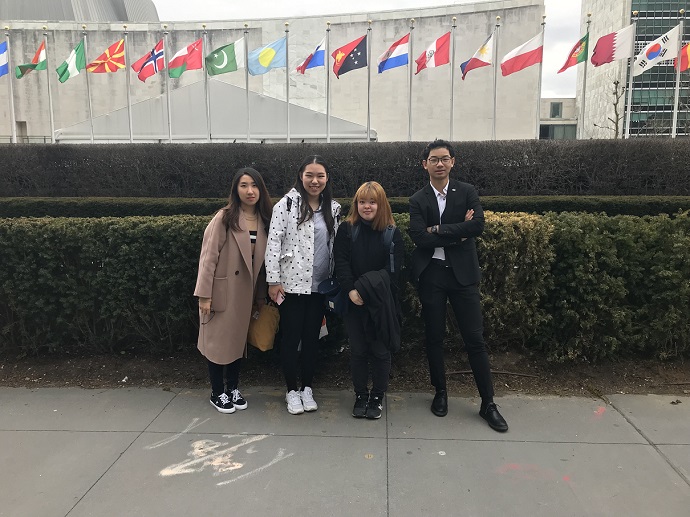 Five English Language Institute (ELI) students were among the winners of the Pan Global Challenge, a project sponsored by Blackstone LaunchPad to address the issues of cultural and language barriers between domestic and international students. Students were asked to develop innovative solutions that could be products, services or technologies that lead to better global communication.
ELI students Junhui (Carol) Yang and Haohui (Nate) Pan won first place for proposing that students receive academic credit for joining and participating in Syracuse University clubs and organizations.
ELI students Miwa Mashiko, Mengyao (Wendy) Wang and Merve Gencturk won third place for their idea of creating a Syracuse University dictionary app. The app would allow international students to ask questions about common names or terms on campus, such as "What is HBC Gifford?"
First place students received a monetary award and several winning ELI students traveled to New York City in March for a tour of the United Nations.
Wang says the experience was magnificent, especially seeing the 193 flags on display outside the United Nations building. "I was so proud when I saw my country's flag," she says. "I learned a lot from the tour guide, but also from the Syracuse alumna who met us in New York City."
The students also had the opportunity to view the art collection. Each country is allowed to bestow one gift to the United Nations. The collection represents a diversity of cultures and periods in history. "Gifts included a Peace Bell from Japan, a Buddha statue from Thailand and artwork representing significant and historical events that took place throughout the world," explains Pan.
Yang was most impressed with the general assembly hall. "Delegates from all over the world gather there to negotiate for the same goals; for peace and a better future," she says. "In that hall, nobody is mediocre; everyone is equal."
The English Language Institute (ELI) provides intensive English instruction to international students and visiting professionals at all proficiency levels.