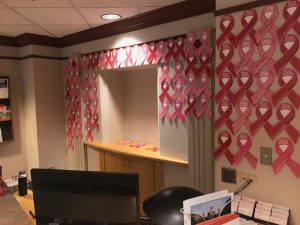 University College staff supported the Carol M. Baldwin Breast Cancer Research Fund of CNY with a week of fundraising and events. The staff raised $775 to donate to the foundation through selling pink ribbon cutouts, organizing raffles, and a arranging breakfast.
On Wednesday, October 23, Beth Baldwin, daughter of Carol Baldwin, stopped by UC for a photo opp with the staff wearing pink. Baldwin serves as the executive director of the fund. All proceeds raised in Central New York stay in the local community.
"Several staff members at University College requested that we support this cause," says Eileen Jevis, communications manager. Jevis said there are several UC staff members who have battled this disease and many more who have had friends and family members affected. "The staff embraced the initiative and were generous in their support. We are thrilled to be able to give the Carol M. Baldwin Foundation this donation, that was collected in just one week of fundraising."
Breast Cancer Awareness Month is a worldwide annual campaign that takes place in October to highlight the importance of breast awareness, education and research.