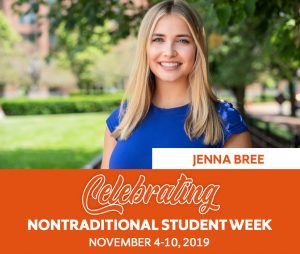 With a passion for storytelling and a strong work ethic, Jenna Bree began her time at Syracuse University as an S.I. Newhouse School of Public Communications student in 2016. She quickly got involved in CitrusTV, a student-run television studio, as an assignment editor and reporter. Over the years, Jenna was promoted within the organization where she held positions as associate producer, executive producer, and weather anchor, all while maintaining other jobs on campus and keeping up with her academic responsibilities.
Bree is now in her final year at Syracuse University as a Broadcast and Digital Journalism major with a minor in Spanish. However, this year is different. Jenna is enrolled as a part-time student at University College (UC). For Bree, the decision to go part-time was simple; she only had 12 credits left to fulfill her Bachelor of Science degree. Currently, Bree utilizes the extra time she has as a part-time student to gain more experience in her field as a multi-media journalist for Spectrum News Central New York.
Bree finds that the biggest benefit of being a University College student is how she can structure her week to balance work and school. She spends her Mondays and Wednesdays completing her senior capstone and learning about human sexuality, while her Tuesdays and Thursdays are spent working for the news station, creating two to three stories for air each week, and reporting live on Spectrum News. Jenna expressed, "My biggest aspiration was to be on the live show at Spectrum at 4:30 p.m. Not having class at that time has let me do that," says Bree. Without University College, Bree would not have time for this invaluable, hands-on work experience related to her degree.
Bree's advice for students contemplating finishing their degree part-time is to do research on the UC website and have conversations with the academic advisors and financial aid counselors at University College. "I did a lot of research before I enrolled part-time so there's not much I didn't know," Jenna says. She encourages other students who may want or need to finish their degree part-time or online to reach out to an advisor to help them make an informed decision on whether University College is the right fit for them as it was for them.