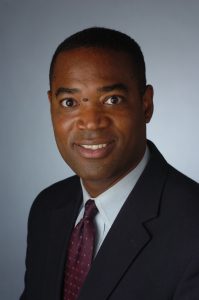 The University College Commencement Celebration for part-time students will take place on Thursday, May 7, at 6 p.m. at the new National Veterans Resource Center.
Jeffery Mangram, Ph.D., will be the keynote speaker. Dr. Mangram is an associate professor in The School of Education (SOE) specializing in Social Studies Education and Media Literacy. He is also the co-director of the Media and Education Master's degree program, offered jointly by SOE and the Newhouse School of Public Communication.
Additionally, Mangram has taught his Media and Democracy course in the Syracuse University Summer College Program for a decade. The Charles Hayden Foundation has donated $1.2 million over 10 years to support this work. He and his team recruited rising high school seniors of color from New York City Public Schools and brought them to campus to take classes for six-weeks with the goal of preparing them for the rigors of academic and social life on a college campus.
In 2018, Mangram was appointed a Provost's Faculty Fellow by Vice Chancellor and Provost Michele G. Wheatly. In this role, he engages the faculty around inclusive teaching, discussing such matters as equity, access and diversity.
Mangram holds a B.A. in Policy Studies/Political Science, an M.S. in Social Studies Education, and a Ph.D. in Teaching and Leadership, all from Syracuse University.