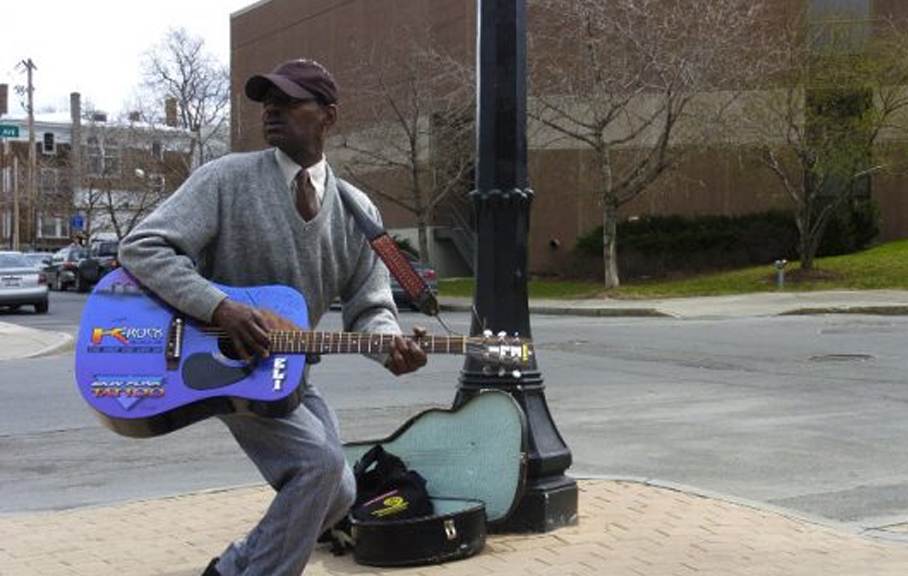 Elijah Harris Jr. was known throughout Syracuse as a man who shared his passion for music with those around him. Anyone walking near the Syracuse University campus would encounter Harris who always had a smile on his face and a guitar in his hands. Harris could often be found on Marshall Street serenading people passing by and telling jokes. "His love of music started when he was 8 years old," says his daughter, Lakisha Harris. "He started playing the guitar at the age of 11. He wanted to spread harmony and his musical gift with everyone."
In April 2020, Harris was killed while riding his bicycle in a double hit-and-run crash on the city's South Side. Family, friends and acquaintances were shocked to learn of his death and the circumstances surrounding it. Lakisha wants people to remember not how her dad died, but that he was an amazing artist who put his heart and soul into every performance.
"My dad encountered many struggles throughout his life, but he stayed committed to his music and his journey to touch as many people as possible," she says. Harris, one of nine children, says her father was very devoted to his family. After performing and sharing his talents with the community, he would go home and entertain them. "He would share his music with his children with the same energy he had on the streets," she recalls.
While Harris played his guitar at various locations throughout Syracuse—outside the Dome, in front of the Landmark Theater or Civic Center, or NBT Stadium—Lakisha says he especially loved playing near the Syracuse University campus. "He loved Syracuse University and appreciated the love he received back from those he met. The University embraced my dad with open arms from the very beginning, so when my family wanted to create a lasting memory, we chose to establish a scholarship at Syracuse University as a way to honor him and say thank you."
"Anyone who knew Eli or heard him play understands the power of music, especially music shared openly and freely," says Michael Frasciello, Ph.D., dean of University College. "University College is honored to be part of his legacy of humor, love and joy. The Eli Harris Scholarship will ensure that Syracuse University part-time students have the opportunity to study and share music as only he could imagine."
The University College Alumni Supported Scholarship will provide financial assistance to part-time undergraduate students studying music or a related field.
In 2019 Harris won the Founders Award during the Syracuse area music awards. It was an honor that reflected the positive impact he had on the Syracuse community.
"My father would be as excited and proud of this tribute as he was when he received the Founders Award," says Lakisha. "With the establishment of this scholarship, the family wants to ensure that his legacy will live on. "We want students to know that if they are determined, they can accomplish great things."
The family is planning a celebration of Eli Harris' life in April 2021. The event will be free for the community and feature music, food and other activities. For more information on participating in the event, contact Lakisha at elialleyway@yahoo.com.