By Hope Alvarez
They never intended to meet. Daniela Orozco Poveda was from Colombia, while Jonato Xavier was from Timor-Leste, a nation located on the island of Timor, in between Indonesia and Australia. While they were once strangers living oceans apart, the world suddenly felt small when the Fulbright Program intertwined their paths.
For the first time in two years, the Fulbright English for Graduate Studies Program returned to an in-person format at Syracuse University after conducting the program virtually due to the COVID-19 pandemic. This year, 29 Fulbright scholars from 25 countries attended the four-week program, which prepares scholars for graduate life before matriculating into their degree programs at institutions across the United States. Sponsored by the U.S. Department of State's Bureau of Educational and Cultural Affairs as part of its Fulbright Program, scholars spend this time building an international education network while participating in interactive workshops, field trips, and textual and oral communication courses.
"It is a blessing to be part of a program with so many tangible and intangible benefits for a range of different stakeholders—first and foremost, for the Fulbrighters, of course, but also for all those who have had the pleasure of getting to know them—faculty and staff, host families, and others in the community—who have been touched by their contagious enthusiasm and optimism for a better future," said David Lind, director of the English Language Institute.
A Golden Opportunity
After 36 hours of travel, Poveda finally arrived at Syracuse University. Although exhausted from a marathon of flights, there was no time to rest. Fulbright scholars chattered at the Ernie Davis Residence Hall, a temporary homebase where they would exchange stories about their lives, their research and the four-week long preparation program. Eager to dive in, Poveda knew it was time to make the most of this prestigious opportunity and began introducing herself to Xavier and the other Fulbright scholars.
"This is the opportunity to be a better researcher and be a better professor," Poveda said.
With a background in law and political science, Poveda's goal during the Fulbright Program is to master her research and teaching skills. In the world of law, industry work often prevails over academia, but Poveda believes that academic research is just as crucial to the development of the industry. During the Fulbright Program, the PhD candidate will sharpen her researcher skills at the University of North Texas as she continues her research about symbolic laws. The experience she gathers in the U.S. will enrich the lessons she teaches when she returns to Colombia.
However, Xavier is eager to dive into the industry side of law. As a Fulbright scholar, Xavier will be participating in an international LL.M. program at Loyola University New Orleans.
"[Fulbright] is simply a golden opportunity," Xavier said.
For Xavier, the Fulbright Program has been an enriching opportunity that allows him to learn about the diverse avenues of research and gather dynamic perspectives from scholars around the world. A global viewpoint is vital for Xavier as he continues his research about human rights.
Connecting Through Cultural Experiences
The Fulbright Program is more than just a research opportunity. During the Fulbright English for Graduate Studies Program, scholars spend the preparation period connecting through a variety of workshops and off-campus activities. Whether it's a session about library resources or enjoying a homecooked meal with University hosts, the program offers a unique camaraderie that can only be found in-person. The variety of immersive learning is structured to prepare scholars for a successful Fulbright experience.
---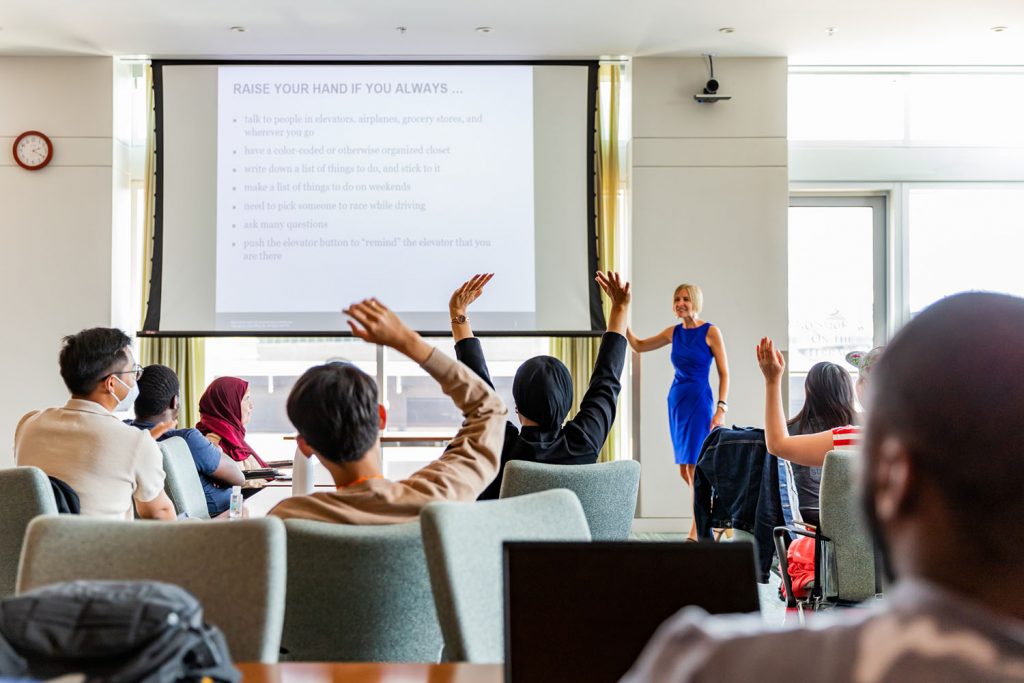 ---
One day Fulbright scholars will learn about professionally applying their personality strengths, while other days are spent exploring museums and art centers. The diverse agenda strengthens the Fulbright community and offers a window of new perspectives.
"What makes this experience unique for the students is the magical mix of learning and networking opportunities that we provide for them, made possible thanks to the interest and generosity of a broad cross-section of folks from the Syracuse University community," Lind said. "All of us involved in the program got a rush out of watching how this amazing group of people have come together from the four corners of the world for a common purpose."
Outside of the classroom, University employees host dinners for the Fulbright scholars. According to Xavier and Poveda, the relaxed gathering offered a chance to connect through cultural experiences while the scholars painted, played ping pong, and feasted on food like paella and strawberry cake. As the Fulbright cohort embarks on this new adventure together, the immersive activities have strengthened their connections, Poveda said.
More Than a Global Network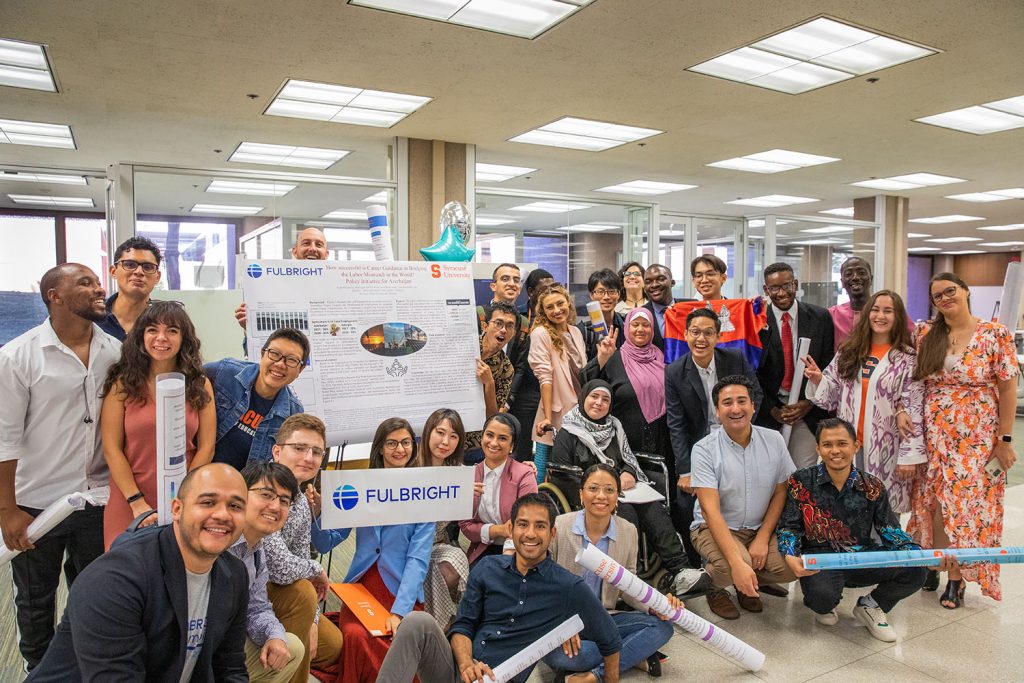 ---
On the final day of the Fulbright English for Graduate Studies Program, the cohort of Fulbright scholars prepare for the Fulbright Scholar Poster Session at Bird Library, where they will present their research using the resources and skills they have acquired during their time at Syracuse.
Poveda and Xavier share a laugh with their cohort, projecting the illusion that they have known each other for years. It's difficult to imagine that these scholars only recently met, but the fresh environment provided a blank slate for the cohort to journey through and tackle any interferences together.
Despite the challenges of living in a different country, navigating language barriers, and adjusting to new academic rigors, Fulbright scholars Poveda and Xavier felt the hindrances were necessary to face during the study abroad experience. The obstacles provided a new way to learn and adapt while enforcing the importance of community. Throughout their learning experiences, the Fulbright network is the greatest tool they'll utilize for the remainder of their careers.
"This is a community," Poveda said. "There is a network between us now, and it is all around the world. If someone needs something, we are going to be there for them."
---
About the College of Professional Studies
The College of Professional Studies is a global, inclusive and future-facing college, providing access to diverse students and learners seeking a Syracuse University degree, credential, certificate or education experience.
About the English Language Institute
The English Language Institute, a department within the College of Professional Studies, at Syracuse University is a pre-degree program that prepares international students to succeed in their undergraduate and graduate degree programs. Established in 1979, this immersive year-round program allows international students the opportunity to learn English and culture in the heart of New York state.