Syracuse University will host its first-ever networking reception for post-traditional students and alumni residing in the New York City metro area on Wednesday, Oct. 12, from 6 p.m. to 8:30 p.m. A program will begin at 7 p.m. featuring John Wallace '96, a basketball player for the Syracuse Orange who turned professional and played with the New York Knicks.
The event will be held at the Joseph I. Lubin House, 11 E. 61st St., one of two Syracuse University outposts in New York City. The home base for the University's New York City operations, Lubin House is nestled among such city landmarks as Central Park, The Pierre Hotel, and Bergdorf Goodman. Lubin House is also home to a regional admissions office that serves as a resource for future Syracuse University students. The admissions team hosts numerous college workshops for both high school students and their parents, holds information sessions about the University, and conducts admission interviews with local applicants.
The Oct. 12 reception is a partnership between the College of Professional Studies, the Maxwell School of Citizenship and Public Affairs, the Martin J. Whitman School of Management, the D'Aniello Institute for Veterans and Military Families, and Syracuse University in NYC. Planning for the event is being led by the College of Professional Studies.
"As the University has expanded its commitment to access for learners significantly, we look forward to greeting our alumni in New York City and sharing updates on how the college and Syracuse University Global are now positioned to provide worldwide access and transformative educational opportunities," says Michael Frasciello, Ph.D., dean of the College of Professional Studies.
There are more than 345,000 Syracuse University post-traditional alumni, with over 7,000 part-time students and alumni in New York City. Engagement with these important members of the Orange family are continuing, with plans to visit Los Angeles and other cities where the Syracuse University presence is strong. More than 160 alumni registered for the college's first post-traditional alumni event this past April in Washington, D.C.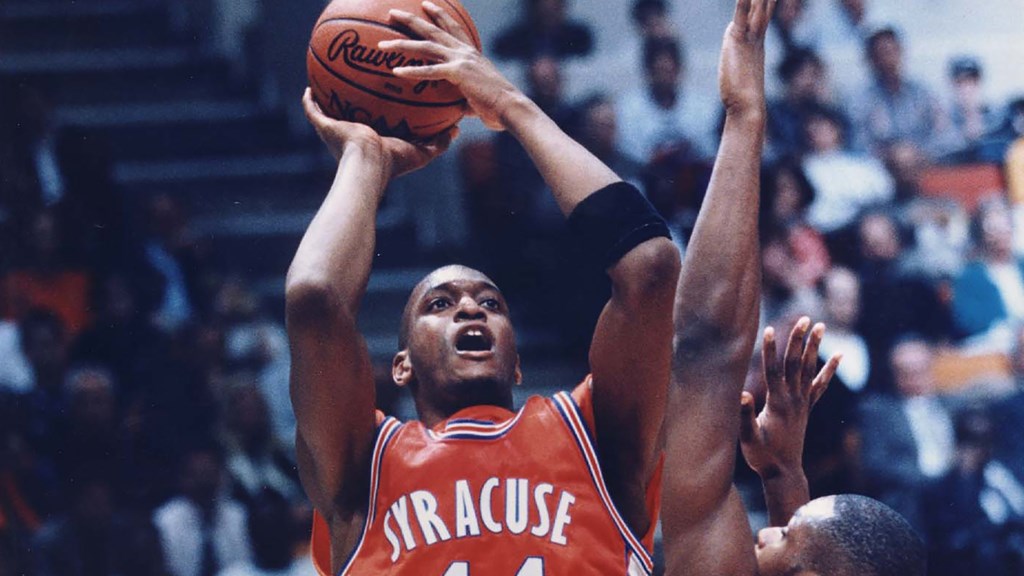 Wallace is a current broadcaster on MSG Networks. He is also the host of the live stream and podcast, "Power Forward w/John Wallace" from SportsCastr. A 1992 graduate of Greece Athena High School in Rochester, New York, Wallace led Syracuse University to the NCAA championship game against the Kentucky Wildcats during his senior season in 1996. After his college graduation, Wallace was selected with the 18th pick in the 1996 NBA draft by the New York Knicks. A 6'8" forward, Wallace played seven seasons in the NBA with the Knicks, Toronto Raptors, Detroit Pistons, Phoenix Suns, and the Miami Heat. Wallace is an executive board member of the Heavenly Productions Foundation, a 501(c)-3 not for profit organization based in Armonk, New York, whose mission is to help children in need and distress.
"Engaging post-traditional alums is a priority of the University," says Jeffry Comanici, executive director of post-traditional advancement. "These graduates are proud of their SU affiliation, as well as the plans to expand the experiences they had as students to a global community."
Registration for the event is requested by Oct. 5. For questions or more information, contact Jeffry Comanici at jjcomani@syr.edu or 315.443.1409.