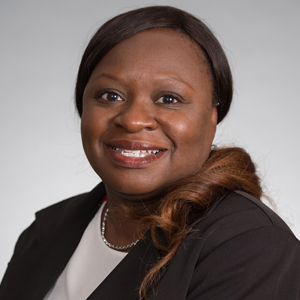 Nichole Henry, director of admissions and recruitment at the College of Professional Studies, has been named a 2023 Unsung Hero Award winner by the Rev. Dr. Martin Luther King Jr. Celebration planning committee.
Henry was named alongside Syracuse University students Candice Ogbu and Thomas J. Wilson, and community members, Oceanna Fair (Southside Branch Leader at Families for Lead Freedom), Trinity Brumfield and Camille Ogden, both juniors at West Genesee High School and founding members and co-presidents of Umoja, a student-led group that was created to actively unite students of all races around issues of diversity, equity and inclusion.
The Unsung Hero Award is given to community members, students, faculty and staff who have made a positive impact on the lives of others but are not widely recognized for their contributions. The awards were created to honor Dr. King's vision of creating positive change in a troubled world.
The award winners will be recognized at the 38th Annual Rev. Dr. Martin Luther King Jr. Celebration. Additionally, the 2021 and 2022 Unsung Heroes will be recognized this year since they were unable to be applauded in person due to the COVID-19 pandemic. The 2023 celebration will be held on Sunday, Jan. 22, with dinner at 5 p.m. and the event at 7 p.m. featuring keynote speaker Rev. Phil Turner. Tickets for the celebration are available at mlk.syr.edu.