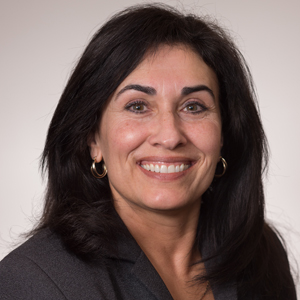 Janet Lafata, financial aid advisor in the College of Professional Studies, has been appointed Chair of the Central NY region (Region III) of the New York State Financial Aid Administrators Association (NYSFAAA).
NYSFAAA is volunteer association that was formed in 1968 to serve the financial aid community. Today, it serves over 1,200 practicing financial aid professionals working in student financial aid offices throughout the state of New York. The Association consists of eight regions across the state. As chair of Region III, Lafata will oversee representatives from 12 counties surrounding the Central New York region. 
The association and its members advocate for and promote equal access to post-secondary education for all students by providing outreach activities to assist students and families as they work to understand the student financial aid process.
"We hold monthly meetings to discuss important topics on financial aid, inclusive of staying abreast of legislative updates," Lafata says. "As a community, we participate in trainings, webinars, and events with financial aid subject matter experts. Additionally, we volunteer at high school FAFSA (Free Application for Federal Student Aid) filing events, participate in yearly Student Aid Advocacy Day in Albany, liaise with Regional and National Associations and attend financial aid conferences."
Lafata has worked at Syracuse University for over 21 years cumulatively. She has spent 14 years working in financial aid, nine of those years most recently within the financial aid department at the College of Professional Studies. She has been a member of NYSFAAA for 21 years.
As a financial aid advisor, Lafata assists students seeking support in financing their education at Syracuse, specifically post-traditional students who come to the University while likely handling many responsibilities in life, like full-time or part-time work and/or raising a family. These circumstances often make it difficult for post-traditional students to find the resources to dedicate towards their academic goals.
The College of Professional Studies financial aid department proactively identifies scholarship or grant opportunities for current and incoming students. Eligible students are either selected and notified or invited to apply each year for awards available the following fall/spring. By having an intimate understanding of and frequent communication with students, the financial aid department can help students focus on their academic pursuits by helping to find financial solutions.
"Being a part of NYSFAAA has been a great experience. I look forward to the future, serving as Chair, to continue the work we have done, hope to do, and put into practice all that we learn to effectively serve our students and provide them with the best financial aid opportunities to help them achieve their educational goals," Lafata says.