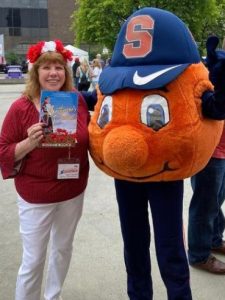 When Roxanne Bocyck first came to Syracuse University in 2006, she was a school bus driver and mother, all while dreaming of becoming a professional writer.
Fast forward to today, Roxanne's debut novel "Catherine's Dream," a story inspired by her Polish grandmother's journey to the U.S., is set to release on November 21. Touted as a "brilliant and moving" story, her book is a testament to what can happen when you don't give up on your dreams, no matter what stage of life you're in. 
In this Q&A with Roxanne, learn more about her upcoming novel, why she chose the College of Professional Studies, and what she says is the most important thing she learned at Syracuse University.  
---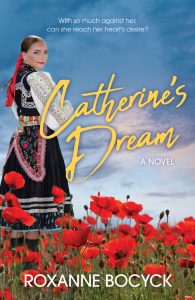 1. When did you first realize you wanted to be a writer?
When my children went to elementary school, they needed someone to put together the Parent-Teacher Organization newsletter and communicate to parents what was going on at the school. I volunteered. This led me to writing newsletters/articles/training materials for jobs I had. Then, I discovered the opportunity to write for a weekly newspaper. I learned I enjoyed educating and communicating with people with the written word.
2. What year did you graduate?
I graduated in 2010 from the College of Arts and Sciences through the College of Professional Studies. I was the school bus driver who went "back to school."
3.  What did you study?
Writing and Communications. I had been authoring articles for weekly newspapers in my hometown of Phoenix, NY. I very much enjoyed writing and informing people about community events. When I would apply for a job as a professional writer, the person with the college degree would get the position over me. That's when I knew I needed to get my college degree!
4. Why did you choose the College of Professional Studies?
I looked at several colleges locally in my area, but they didn't have a degree program for adults returning to school, meaning, many classes for BA degree programs were only offered during daytime hours. 
As a working mom, this was not feasible for me. A friend suggested we visit Syracuse University because her niece was in a writing program there. I was skeptical, but when I found out they offered part-time studies for non-traditional college students through the College of Professional Studies, I started to believe it was possible. The classes were not only offered in the evening, but I could also go on the weekends, and they had online classes as well. In addition, the College of Professional Studies had their own degree program in communications (which included writing). It seemed like a perfect fit!
5. What is the most important thing you learned while studying at Syracuse University?
The most important thing I learned while studying at Syracuse University is the importance of believing in myself and my abilities. It wasn't easy going back to school as an adult who was working and raising a family, but I did it! I also learned the importance of volunteering and giving back, not only to my community, but to institutions like Syracuse University that offer scholarships to non-traditional college students. There were times when I thought of giving up, but then I would receive a scholarship to pay for my classes for the next semester; someone believed in me, I wasn't giving up now!
6. In your program, what did you learn about your industry that has aided you in your career growth?
The importance of connections. In many of my classes, there would be guest speakers and opportunities to meet people who were in the writing/communications field. Also, there were always talks on campus from alumni who had careers in writing. This gave me the opportunity to understand the importance of knowing what you want and acting on your goals. There is always someone who can help you, all you must do is ASK.
7. Your debut novel, Catherine's Dream, is set to release on November 21. What inspired you to write this book?
What inspired me to write this book was a story I learned about my grandmother when I was going to Syracuse University as a part-time student in 2006. I always knew my grandmother immigrated from Poland to America in 1921, but I wasn't aware of the circumstances that brought her here. Also, to learn she had a life in a paper mill town on the foothills of the Adirondacks before she came to Syracuse fascinated me. On top of that, something happened to her during the early 1920s in that paper mill town, and it was all over the newspapers from that area. Being a student at Syracuse University gave me access to databases of old newspapers (although there was the internet in 2006, it didn't have the capabilities it has now). 
I used the microfiche machine to find the newspaper articles! When I read the newspaper stories I thought, "I need to write this story one day!"
8. Did you self-publish or go the traditional publishing route and why?
I knew I didn't want to self-publish because I wanted a professional book to help me build my career as a writer. I wanted the experience of working with a publisher. I even hired a writing coach to help me outline the story and teach me how to author a story people will want to read and a publisher would want to publish. He is a Syracuse University alumni too!
9. How long did it take you to write Catherine's Dream?
I started working with David Hazard in January of 2021 and finished in July of 2022. Then, I had input from beta readers, did some revisions, and in September of 2022 started to query the story to agents/publishers. I signed my contract in December of 2022!
10. How did your time at the College of Professional Studies prepare you to write this book?
Being part of the writing program at the College of Arts & Sciences helped me to experience different types of writing, such as technical, video, short stories– I even had the opportunity to do some playwriting. These writing experiences taught me how to research, use new technologies, and organize my thoughts. 
[I learned] the importance of telling a good story that people would be interested in, like when I volunteered at WAER radio to report special interest stories. Also, all of the 30-40-page papers I had to research and write for my classes helped too!
11. Every author has their own writing process. What was your process like while writing Catherine's Dream?
At first, it was easy to get distracted. I was used to working at a place of business, not from my house. I soon learned the importance of having my own workspace in my home. Having a writing coach helped keep me accountable. Because I had outlined the story, it was natural for me to start from the beginning, for example, chapter 1, chapter 2, etc. A chapter can be anywhere from 5,000 to 7,000 words.
Eventually, I learned to break my chapters up into scenes, which helped me to finish a chapter sooner. I also learned that I didn't have to author my book in order. For example, I knew there would be winter scenes later in the book, so I would write those during winter months. I would go outside and feel the icy rain on my face or write about the sound of the snow as I walked through it. I would file those scenes away for later chapters. Oftentimes when I write, I like to use paper and pen, then type it up on the computer.
12. How do you navigate writer's block?
Great question! Several ways… like I said earlier, having an outline helped. I learned to break chapters into scenes. When I would write a scene, there was no making it perfect, just writing what comes to my head, then editing afterwards. Sometimes a sentence would stick out and from that sentence would come a paragraph, which led to another paragraph. Another thing I do is journal what's on my mind (this usually leads to ideas to write about), or I go for a ride in the car. Sometimes I need to pull over (in a safe place) to get my thoughts down!
13. Did you have any challenges when writing Catherine's Dream? How did you overcome them?
One of my biggest challenges was overcoming the need to earn a paycheck. If my husband and I hadn't gotten out of debt and had savings, I would have never been able to write this book. Having financial freedom enabled me to live my dream of becoming a published author. Now that my book is available, I am seeing the fruits of my labor. Through my publisher I was able to order advanced copies of my book and people are eager to purchase them. It seems so surreal to hold it in my hands. If I would have gone to get another job after I lost mine to the pandemic, I'm sure my file of the newspaper stories about my grandmother would still be in a folder on my computer.
14. What did you learn when writing the book?
I learned about the journey across the Atlantic in the steerage of the ship and immigration through Ellis Island. How people lived in America in the early 20th century and what the city of Syracuse was like in 1921 and 1922. I refer to many historical landmarks, including the Mizpah and other buildings in Syracuse that are no longer there. I even reference Syracuse University! 
However, just like when I went to Syracuse University through the College of Professional Studies, I learned a lot about myself. Such as what motivates me to do what I do and what I am capable of when I set a goal.
15. What is your definition of success?
I used to think success was a number followed by a lot of zeros. It was having a fancy car or large house. But then after I went to Syracuse University, I learned success is about giving back. It's not about making money; it's about being able to give the money to people and causes that educate and inspire. Success is about health and relationships. It's taking care of yourself first so you can take care of others. It's about having a goal or a dream and acting on it. 
To put all of that into one sentence I would say: Success is about giving back, having the freedom to live a life you love so you can help others live a life they love.
---
Pre-order Catherine's Dream today.
By Isabel Bekele