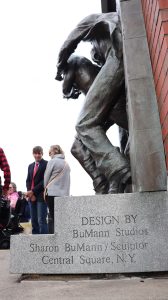 The next time you spread a pat of butter on toast, smile then give a nod to local artist and sculptor Sharon BuMann, VPA '84. Over many years, the Syracuse University graduate used the malleable, edible element to form numerous beloved sculptures commissioned by the New York State Fair.

Driving around Syracuse, keep your eye out for mammoth figures chiseled in bronze or other hearty materials. Sharon's expert, compassionate hands have either restored existing pieces or created new works to reflect the city's rich history.
On Oct. 25, Syracuse Deputy Mayor Sharon Owens presided over a proclamation ceremony at the Jerry Rescue Monument in Clinton Square to honor Sharon in recognition of her lifetime achievements and contributions to the Central New York community.
From Butter to Bronze
The creator of many of Syracuse's best-known pieces of public art, Sharon earned a Bachelor of Fine Art from Syracuse, conferred by the College of Visual and Performing Arts (VPA) and administered through the College of Professional Studies, in 1984. Previously, she had earned an associate degree in graphic arts from Onondaga Community College. She's also pursued post graduate study at the Lyme Academy and the University of Hartford in Connecticut.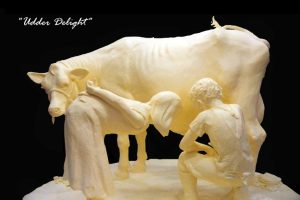 Almost 40 years later, "Sharon BuMann Day" was proclaimed by the City of Syracuse. October is the month in which the Jerry Rescue occurred 172 years ago, reinforcing the date and location of the ceremony. Sharon has deep family and artistic roots in Central New York, having been raised in Central Square, just north of Syracuse near Oneida Lake. Her grandmother, also an artist, gave 11-year-old Sharon her first sketch book.
Years later, Sharon designed and created the Jerry Rescue Monument, commemorating the rescue of fugitive slave William "Jerry" Henry when citizens of Syracuse stormed his jail cell in 1851 and helped him escape to freedom in defiance of the Fugitive Slave Act.
Among other works in Syracuse, she also created the Elizabeth "Libba" Cotten statue on the city's southside, honoring the world-renowned folk and blues singer from North Carolina who decided to live out her days in the city. Sharon formed the Mountain Goat Monument in Upper Onondaga Park that celebrates the annual 10-mile run and was involved in the exterior structural design of the Onondaga County War Memorial that pays tribute to veterans in Syracuse and around the world, for which she and her team received the ACI Grand Award of Excellence.
Artistic Values and Virtues
In addition to creating her artistic works, Sharon and her husband grew their family to include two children — daughter Amy, a healthcare professional in Western New York, and son George, also a sculptor — who attended the presentation. A graduate of SUNY College of Environmental Science & Forestry with a B.S. in Environmental and Forest Biology, George, who also earned a M.S. in Wildlife Science from Virginia Polytechnic Institute and State University, shared thoughts during the ceremony.
He talked about values and virtues Sharon has created throughout her career. "As much of what my mother modeled through her work speaks to liberty, equality, women's suffrage, and abolitionism, she also wove these elements among her everyday life," he said. "These still live in the bricks and mortar of the Jerry Rescue monument and other works, but my mother's 'invisible moments' have become cherished memories for those who've been able to work with her or share her company."
Inclusivity and Diversity
George further remarked, "Inclusivity has always been a central part of my mother's personal philosophy, her career, and our family. My sister and I absorbed many of these lessons passively without realizing them, often around the dinner table that served as the impromptu story time for our family. Not until years later would we understand how fortunate we were, as our world was one that did not distinguish between people based upon color, creed or any other orientation. This came with the implicit understanding that we are infinitely more productive, creative and resilient when we work together as one."
Sharon's Syracuse University experience came first as a student and then as an art instructor in VPA. College of Professional Studies Dean Michael Frasciello notes that Sharon's outlook about life and relationships align perfectly with the philosophy of the University and the College. "We strive to provide access to the university experience to all people to expand the thinking, understanding and respect we need to survive — and thrive — locally and globally," he says.
Community Partnerships to Create Art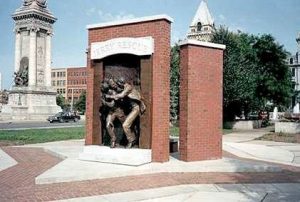 Sharon has worked diligently to share her artistic vision in Syracuse and across the country, crediting many individuals with her success as a prolific contributor to the Central New York landscape: Syracuse University faculty and administrative leadership; those in local government who've seen the value of the public art scene; and community volunteers and cheerleaders, including John Marsellus and Chet Whiteside, who paved the way for many of the projects that reflect her creative spirit.
Throughout the years, she has continually attended workshops and prides herself on the vast amount of independent study and research that informs her work. Sharon says that "life-long learning is a philosophy I live by," in keeping with the mission of the College of Professional Studies.
Now in her later years, Sharon is enjoying life at a more relaxed pace, though art and sculpture remain part of her daily existence. "My dream and my choice have been, from a very young age, to work as a professional artist," she says.
While Sharon has created many works using many media, never underestimate what the talent — and passion — of one woman can do as you spread that tiny pat across your bread.
The Syracuse University-trained, Central New York native holds the Guinness World Record for the largest butter sculpture ever assembled, a model of Big Tex, an icon of the Texas State Fair, that was displayed at that venue weighing in at 4,077 pounds. As monumental as this task may seem, Sharon sums it up simply: "I just love what I do."
Are you interested in helping to nurture artistic expression in those who are studying through Syracuse University's College of Professional Studies? Learn more by contacting Executive Director, Post Traditional Advancement, Jeffry Comanici, '88, G '23, at 315.443.1409 or jjcomani@syr.edu.
 
By Cheryl Abrams