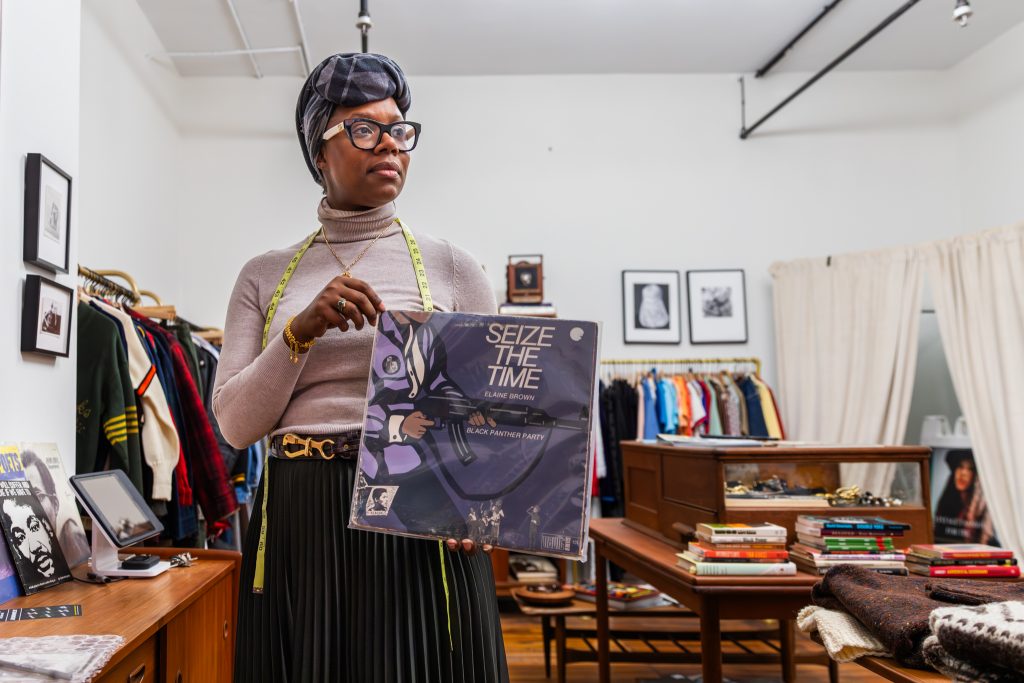 On a recent trip to visit extended family, Cjala Surratt '22, Syracuse University alumna and founder of the Black Citizens Brigade, was presented with a gift– her late grandmother's boiler room jacket. Surratt's grandmother had been a ship-fitter in Norfolk, Virginia, and the clothing item had been a welcome surprise for Surratt, a vintage clothing fanatic.
Even more surprising than the jacket, however, was the history behind the woman who wore it. "Did you know she was the first Black female union leader for the shipyard?" a relative asked Surratt during her visit. Surratt's grandmother, who had stepped up to do the job no one else wanted, had been trailed by a security detail at the time, as the owners of the commercial port were against unionization.
"I was like, wait, what?" says Surratt. "This is exactly what I mean– that clothes can be the prompt for these broader stories."
For Suratt, clothes have always been a conduit for storytelling. Following her graduation from Syracuse University and ten subsequent years spent as the Director of Marketing for Light Work, the University's nonprofit photography studio, Suratt opened the Black Citizens Brigade, a downtown storefront dedicated to amplifying Black history through clothes, books, and art.
"For Black and brown people, or those who've historically experienced economic disparity, upcycling has always been an economic imperative," says Surratt. "I think I'm part of continuing that legacy."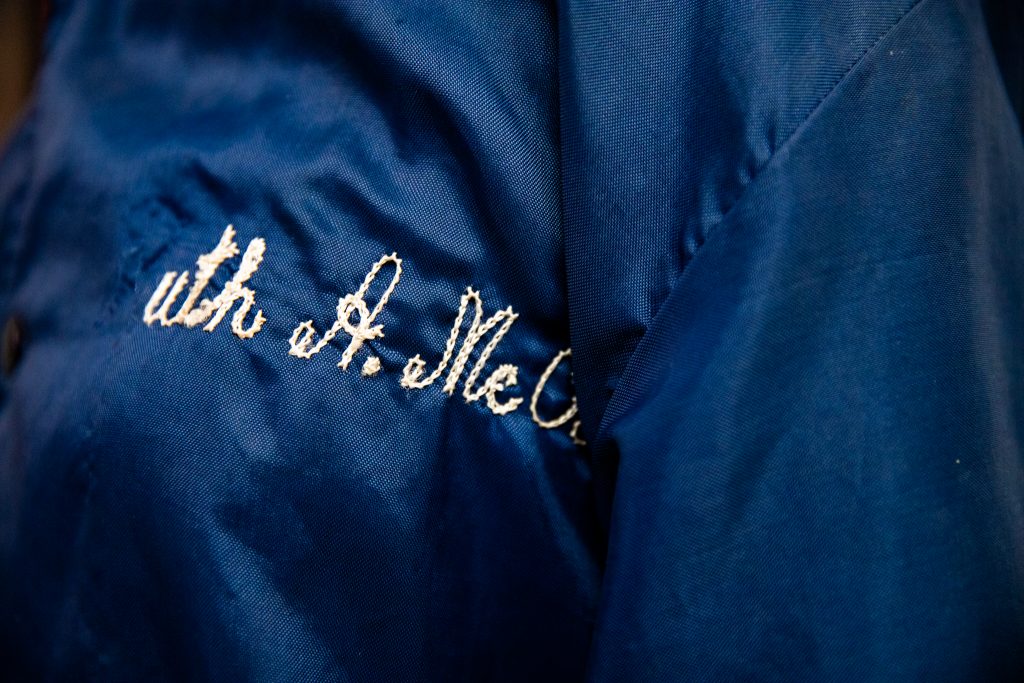 Legacy is the through line of Surratt's work. Her love of vintage clothing came from growing up in a family of seamstresses, milliners, and creatives. During the early days of COVID-19, Surratt and her daughter would peruse the racks of Goodwill, one of the few businesses open at the time. With many elders being pushed into nursing homes, the pandemic made thrift stores abundant with discarded clothes from families cleaning out their parents' closets, says Surratt.
Once her home began overflowing with garments from thrifting trips, she decided it was time to finally take the leap and pursue establishing her own shop. After months of working with the Syracuse Downtown Committee, scouring listings for vacant storefronts, and organizing her collection, Surratt opened the Black Citizens Brigade in June of 2023 and has been providing downtown Syracuse with an eclectic mix of clothing, culture, and community ever since.
Today, Black Citizens Brigade sells hard-to-find items that center on Black history, specializing in clothes from the 1950s-1980s, along with vintage books, magazines, and records. The time period of the clothes is an ode to Surratt's fascination with the aesthetics of that time, while the book selections represent her commitment to education. 
"The clothes and the books are prompts for larger conversations about race, culture, history, and gender," says Surratt. "And so, the books all center on Black community, Black history, Black culture."
Surratt's blending of learning through culture stretches back to her time at Syracuse University, where she studied Stage Theatre through the College of Visual and Performing Arts and minored in Cultural Anthropology and Psychology. Later on, she came back as a continuing education student to finish credits part-time through the College of Professional Studies. She credits specific parts of her education, such as doing character studies that involved thinking about the history of trends, as helping her in her current career.
"The common thread is understanding people– a desire to know why people arrive at the choices they make, and also a deep curiosity about culture and community," she says.
Since its opening, Black Citizens Brigade has Surratt's community to thank for the store's success. She's leveraged her upbringing in Syracuse and attendance and former job at the University to bring more attention to her space.
Downtown, where businesses founded by BIPOC owners statistically don't last as long as businesses with white business owners, is where the physical storefront is located, Surratt says. However, Surratt knows that being a visible part of the community beyond the brick-and-mortar is crucial, as it shares the message that Black and brown businesses are here to stay.
"We're at a very pivotal time in our city to bring the message," says Surratt.
Looking forward, Surratt hopes to expand her storefront and host interactive events, such as poetry workshops and listening sessions. In her store lined with archival photos of Black domestic life, Surratt is aiming to cultivate a feeling of homecoming for all who enter.
"I want it to feel like you're coming into a Black family photo album."
By Isabel Bekele