About the International Year One (iY-1) Program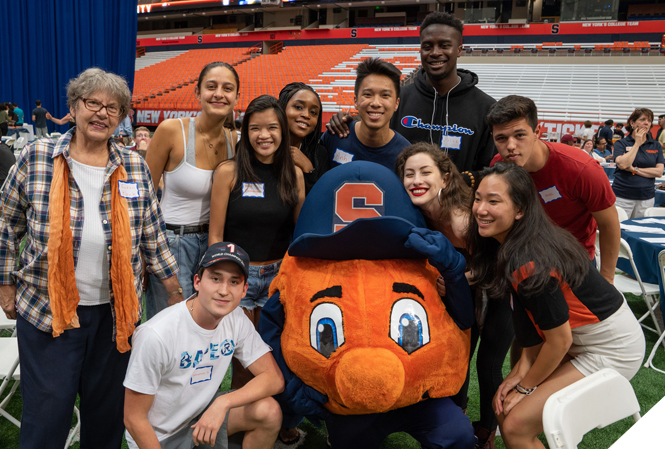 The iY-1 Program offers international students unprecedented access to U.S. higher education. Syracuse University, in partnership with Interlearn, Inc., has developed a special blended first-year university learning curriculum for students in designated countries. This program provides students with a practical education and a more simplified college application process.
International students who qualify for this program begin Syracuse University classes in their home countries, usually their hometowns, taking credit-bearing courses, language lessons and culture, and study skill modules from Syracuse University faculty and local teachers. Classes will be taught in a hybrid format, with in person classes with your instructors at your center and online classes with Syracuse University professors. Upon successful completion of the program and requirements met, students' progress to the Syracuse University campus or other partner institutions in the U.S. where they complete their undergraduate degree.
Key benefits of the iY-1 Program:
Standardized test exempt. As with our traditional undergraduate requirements for international students, this program is SAT/ACT exempt and English proficiency test optional.
Begin first year university in your home country. You will take the Fall and Spring semesters in your home country and then travel to Syracuse to study in person at Syracuse University for the Summer semester. For year two, you will continue onto Syracuse University or a partner institution prepared to continue building your academic and professional future.
Hybrid learning offers convenience and quality. Study with local instructors teaching face-to-face in small groups and online with Syracuse professors' lectures and office hours.
Syracuse status and admission. Students receive Syracuse accounts, official transcripts, admission letters and all Syracuse University online resources while in this program.
Hands on workshops and support from Syracuse University staff. You will have access to several workshops that will enhance your learning and provide you with resources in order to be successful in college. The Student Services staff at Syracuse University will support you throughout your first year and is there to guide you and answer any questions you may have.
Real Syracuse University courses and credits. Courses are taught directly by Syracuse University professors with all credits applicable toward your degree. Syracuse University is a highly ranked institution whose credits and degrees are recognized globally.
Save cost and save time. Spend less on first-year tuition and living expenses. 
How it works
Pre-Sessional English Language Training
Prior to acceptance to the iY-1 program, applicants will take an English proficiency assessment. Based upon the results of the assessment, applicants may be required to attend either a 6-week or 12-week Pre-Sessional English program, held fully online in the Summer of 2022. See dates and application deadlines below.
Participation in the Pre-Sessional English program will improve your academic English proficiency in preparation for the full iY-1 program in the fall. Students will enjoy both live online sessions with Syracuse University instructors and independent study tasks. Live sessions will meet for approximate 10-12 hours per week. Successful completion of the Pre-Sessional English program guarantees your acceptance and admission to the iY-1 program.
Important Dates of the Program
Pre-Sessional Program
May 16, 2022: 12- week start date for pre-sessional online English training
July 5, 2022: 6- week start date for pre-sessional online English training
Pre-Sessional Program Application Deadlines:
April 1, 2022: Application deadline for 12-week pre-sessional program
June 1, 2022: Application deadline for 6-week pre-sessional program
iY-1 Program
August 29, 2022: Begin your first semester of undergraduate courses in your home country at your designated center.
January 17, 2023: Begin your second semester of undergraduate courses in your home country at your designated center.
May 15, 2023: Arrive to Syracuse to continue your first year on the Syracuse University campus for your summer session.
August 28, 2023: Begin your second undergraduate year at Syracuse University or a partner institution with 30 credits.
iY-1 Application Deadline: 
August 1st, 2022: iY-1 Application Deadline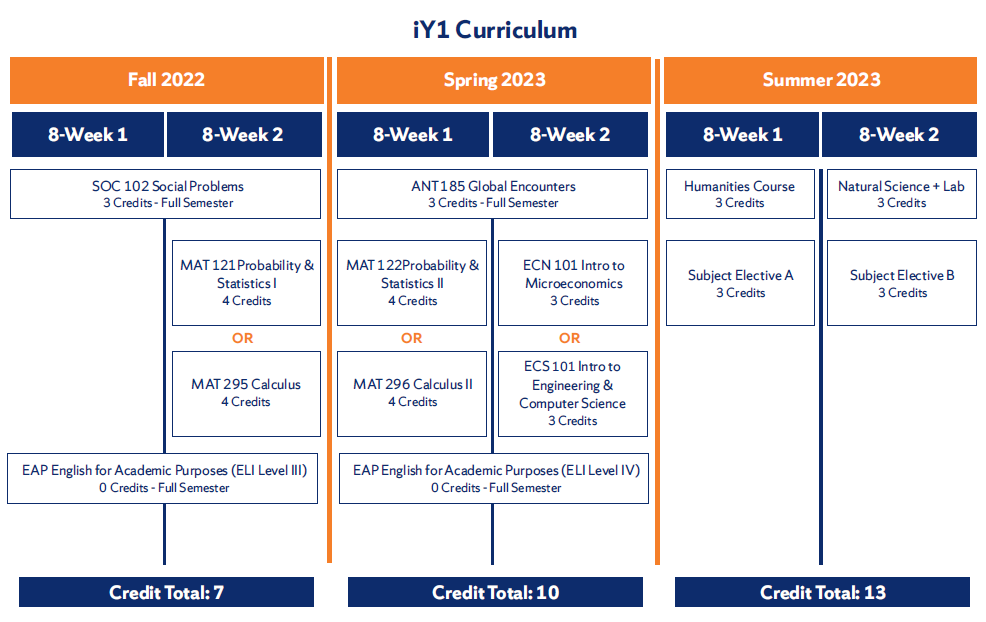 Click to download accessible PDF of iY1 curriculum
Tuition for iY-1 Program
| | |
| --- | --- |
| Pre-Sessional I (12-Week Summer 2022 Program) | $8,220 |
| Pre-Sessional II (6-Week Summer 2022 Program) | $4,110 |
| Fall 2022 | $15,000 |
| Spring 2023 | $15,000 |
| Summer 2023 | $13,000 |
Requirements for the program
Working laptop for all components of the program
Working camera
Working microphone
*Please ensure that you have all of the above before the first day of the program
A welcome from the Dean: