Workforce-ready Training and Degree Pathways Tied to In-demand Industry Sectors
The Future-Ready Workforce Innovation Consortium represents a whole-of-the-university eco-system of academic, skills training and partnership programs designed to support a multi-faceted approach to investing in and providing talent and workforce development in New York State and beyond.
The Consortium focuses specifically on workforce-ready training and degree pathways tied directly to in-demand industry sectors. Our ecosystem includes pathways to degree and non-degree programs, technical training, certificates, and specialized credentials – as well as intersecting pathways enabled through partnerships and programs with the business community, trade unions, secondary schools, community colleges and other four-year institutions.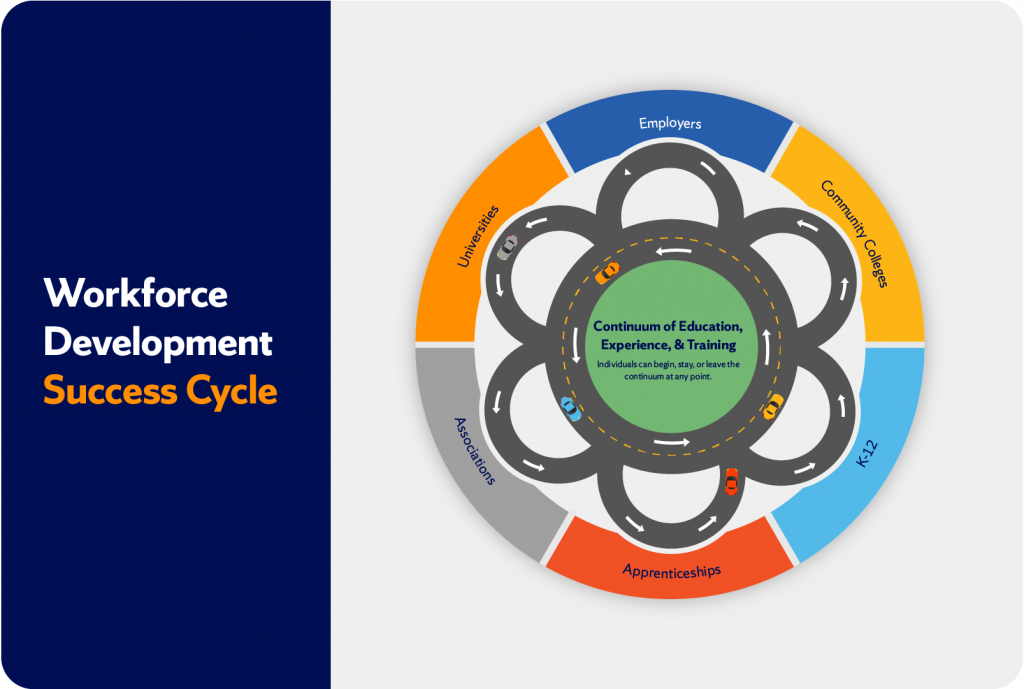 The Workforce Innovation Consortium Success Cycle
The Consortium is designed to include multiple learner on-ramps and off-ramps to training and education. This includes an advising and assessment infrastructure designed to ensure that learners can leverage knowledge and skills through work experience, military service, or informal education as aligned with higher education credentials and degree programs.
Just as the Consortium ecosystem offers several points of entry, the pathway model provides multiple off-ramps to employment opportunities or other training programs and partners. The consortium model ensures a true life-cycle approach to education that allows us to meet learners where they are at in their academic and training journeys and guide them to where they want to be.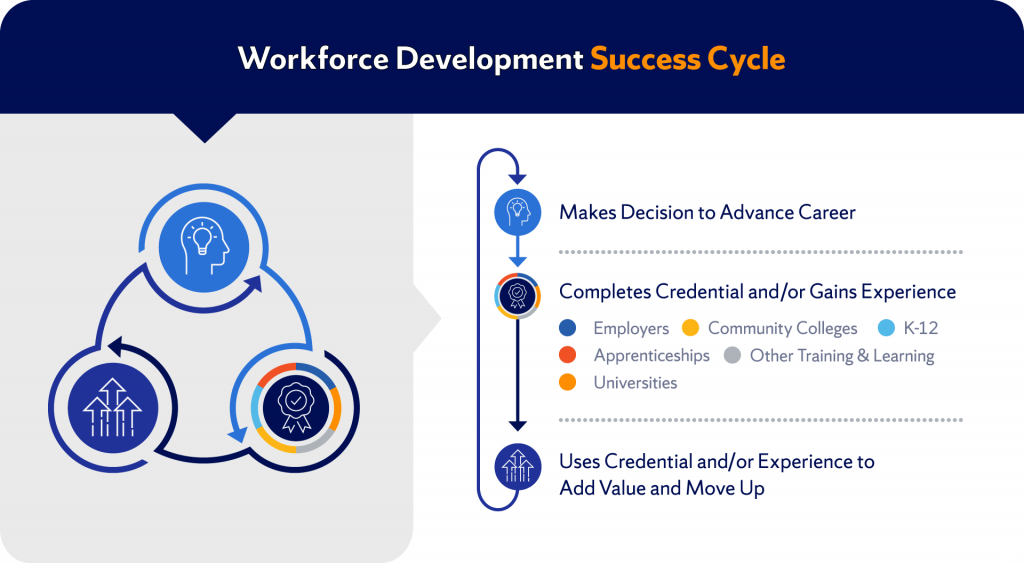 Goals of the Future-Ready Workforce Innovation Consortium:
---
Providing Pathways to Advanced Education and Continuous Learning
Our Focus:
Providing advanced degree, certificate and professional development opportunities for working adults.
Developing and deploying credit and non-credit courses and programs aligned with the highest demand careers in the industry.
Ensuring robust programs and support services designed to upskill and reskill our current community workforce and those currently pursuing education to enter the workforce in New York State.
Partnering with community colleges primarily on degree pathway programs from two-year degree programs to bachelor's degree programs at Syracuse University leading to direct entry to the workforce.
Examples in action: Degrees for Working Adults, Stackable Credentials and Community College Partnerships
Degrees and Support for Working Adults
Learning should never have to wait. Syracuse University has over 70 undergraduate, graduate and certificate programs that are fully online and designed with working adults in mind. Much of the coursework is designed for students to complete on their own time throughout the week. A weekly interactive live class gives students the opportunity to learn and engage with instructors and classmates in a virtual classroom that can be accessed from anywhere in the world.
Our student success teams offer individualized and proactive student support to help learners navigate all aspects of applying to and earning a credential part-time at Syracuse University while working full-time.
Stackable Credentials
The Syracuse University Future-Ready Workforce Innovation Consortium delivers a portfolio of "stackable" training, skills, and education credentials. Courses and programs are organized around stackable credentials that can build upon each other, creating incremental milestones on the path to degree completion and career advancement.
Community College Partnerships
The Consortium is establishing and maintaining active articulation and workforce development partnership agreements with regional community colleges. Other dimensions of the partnerships include programs that serve young adults with barriers to education, developing and implementing comprehensive, sustainable student- and employer-centered programs that promote access, success, and career entry for youth and young adults with disabilities, while increasing enrollment of individuals with disabilities in career and technical programs.
---
Partnering with Corporations and Unions to Provide Custom Programming for Ongoing Workforce Upskilling
Our Focus:
Upskilling or reskilling current workforce with programs designed to fit the precise needs of a future-focused workforce.
An example in action:
Syracuse University has established a comprehensive workforce-ready education pathway program in partnership with Mohawk Valley Community College (MVCC), Alfred State College, and the International Brotherhood of Electrical Workers (IBEW). The partnership focuses on three of the region's leading academic institutions and one of the largest trade unions in New York State on developing the next generation of future-ready electrical trades professionals. Apprentices in the IBEW's five-year training program are awarded an Associate of Occupation Science degree in Electrical Service Technology at MVCC. Apprentices can then earn an undergraduate Project Management Certificate from the College of Professional Studies, with 9 of the 15 certificate credits completed as transfer from the IBEW training program and the MVCC associate degree.
---
Promoting a Skilled and Diverse Workforce
Our Focus:
Training and credentialing military veterans and service members for post-service careers.
Providing educational pathways for economically and educationally disadvantaged students.
An example in action: HEOP & IVMF
Institute for Veterans and Military Families (IVMF)
The D'Aniello Institute for Veterans and Military Families (IVMF) at Syracuse University is higher education's first interdisciplinary academic institute, singularly focused on advancing the post-service lives of the nation's military veterans and their families to serve those who have served. To date, more than 150,000 transitioning service members, veterans and military family members have been served by IVMF entrepreneurship and career training programs.
Higher Education Opportunity Program (HEOP)
The Higher Education Opportunity Program (HEOP) was established by New York State in 1969 to provide access to independent colleges and universities for economically and educationally disadvantaged students from New York state.
The College of Professional Studies of Syracuse University is home to New York State's only Higher Education Opportunity Program (HEOP) program for part-time students, providing a broad range of services to learners who would otherwise be unable to attend a postsecondary educational institution.
In partnership with HEOP, the Future-Ready Workforce Innovation Consortium has established specific goals and objectives associated with ensuring HEOP students have direct access to pathway programs.
---
Advancing STEM Education in the Pre-College Population
Our Focus:
Increase STEM pre-college programming opportunities tied directly to future-ready careers.
Provide pathway for underrepresented students to earn college credit at Syracuse University.
An example in action:
The Future-Ready Workforce Innovation Consortium collaborates with the Syracuse University Office of Community Engagement to support summer internship programs, bringing City of Syracuse Career and Technical Education students to work in learning pathway related positions at the University. This six-week program aligns learning skills of their high school program with a work experience. The program is focused on students who will be starting their senior year in the upcoming school session. As an incentive for the students, as they finish the six-week internship program, they receive credit for one online course to be taken within the College of Professional Studies course offerings.
The Syracuse University Summer College program, operated by the Office of Pre-College Programs, also serves as a pathway for underrepresented students to earn college credit while experiencing life at a top university. In 2022, Summer College fully funded 339 students to attend the program on campus (primarily working through extensive partnerships with 47 community-based organizations such as the Price Family Foundation and the Charles Hayden Foundation).
The Syracuse University Future-Ready Workforce Innovation Consortium will collaborate with Syracuse University's College of Engineering and Computer Science to introduce semi-conductor and advanced manufacturing-specific courses into Summer College academic offerings. These will include "technical bootcamps" offering on-site instruction at manufacturing and trand trade facilities.