Alpha Sigma Lambda Honor Society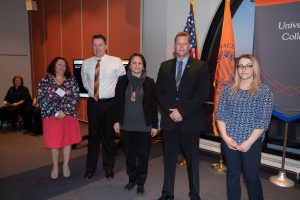 Alpha Sigma Lambda is the nation's largest and oldest chapter-based honor society for nontraditional students. The Society was founded in 1945-46 and today has more than 300 institutional chapters. The Syracuse University chapter is the Beta Delta Chapter and was established in 1977.
Alpha Sigma Lambda's aim is to recognize the special achievements of adults who accomplish academic excellence while facing competing interests of home and work. Alpha Sigma Lambda is dedicated to the advancement of scholarship and recognizes high scholastic achievement in an adult student's career. By so doing, this Society encourages many students to continue toward and to earn associate and bachelor's degrees.
Membership
To be considered for membership a candidate must be matriculated and have completed a minimum of 24 credit hours and represent the top twenty percent of the class, with a minimum grade point index of 3.2 on a 4.0 scale.
Alpha Sigma Lambda  Scholarships
The national chapter of Alpha Sigma Lambda awards scholarships annually. Learn more about the scholarship application process. You may also visit the national Alpha Sigma Lambda web site at www.alphasigmalambda.org for additional details.
Learn more about the Alpha Sigma Lambda scholarship 
Officers for SU's Beta Delta Chapter are:
Andrea Willis, president
Maria Borte, vice president
Darlene Carelli, secretary
Rosemary Kelly, councilor
The following students will be recognized in the March 8th, 2019 Honors Reception ceremony:
Mary Theresa Welker majoring in Creative Leadership at the College of Professional Studies
Irina G. Popov majoring in Music Composition in the College of Visual and Performing Arts
Ronald James Tracy majoring in Creative Leadership at the College of Professional Studies
Timothy Sullivan majoring in Knowledge Management at the College of Professional Studies
Kim Gailor-Layton majoring in Creative Leadership at the College of Professional Studies
Chevon C. Janczuk majoring in Psychology and Social Work in the College of Sport and Human Dynamics
Teresa A. Williams majoring in Knowledge Management at the College of Professional Studies
Denny John Langford majoring in Creative Leadership at the College of Professional Studies
Mindi Stoffel majoring in Knowledge Management at the College of Professional Studies