The moon is out, and the city of Beijing is winding down. Meanwhile, Syracuse University student Qichen Chang has cracked open his notebook for an evening of studying. Tonight's lessons are Probability and Statistics and English for Academic Purposes. Tucked away in his dorm room, Chang scrolls through his computer and immerses himself in notes from a Syracuse University lesson. Taking his first two semesters of Syracuse study at a local learning center in China, Chang has spent this time wisely, participating in a higher education program that is preparing him to progress to a summer semester in the United States at Syracuse University and proceeding then into his sophomore year at Syracuse. It won't be long until he's working face to face with his instructors in Syracuse, New York, and part of the community of learning on campus.
The International Year One Program (iY-1) offers international students unprecedented access to U.S. higher education. Syracuse University, in partnership with Interlearn, Inc., has developed a special blended first-year university learning curriculum for students in designated countries. This program provides students with a practical education and a more simplified college application process that is both rigorous and inclusive.
"The iY-1 program allows Syracuse University to take the lead in offering an innovative and transformative international program," said Stephen Larsen, founder and CEO of Interlearn. "This program provides students extensive preparation for study in the U.S. and access to Syracuse University in a way that is meaningful to them and their families. Our mission is to bring talented students the higher education opportunities that can change their lives and benefit their communities."
Structured for Success
Across the U.S. an astonishing number of international students face significant challenges in finishing their degrees. This can be for social, personal, cultural, and academic reasons. Students cite a range of challenges, most of them directly related to making the tremendous jump to a new culture and different approach to learning while far away from family support.
---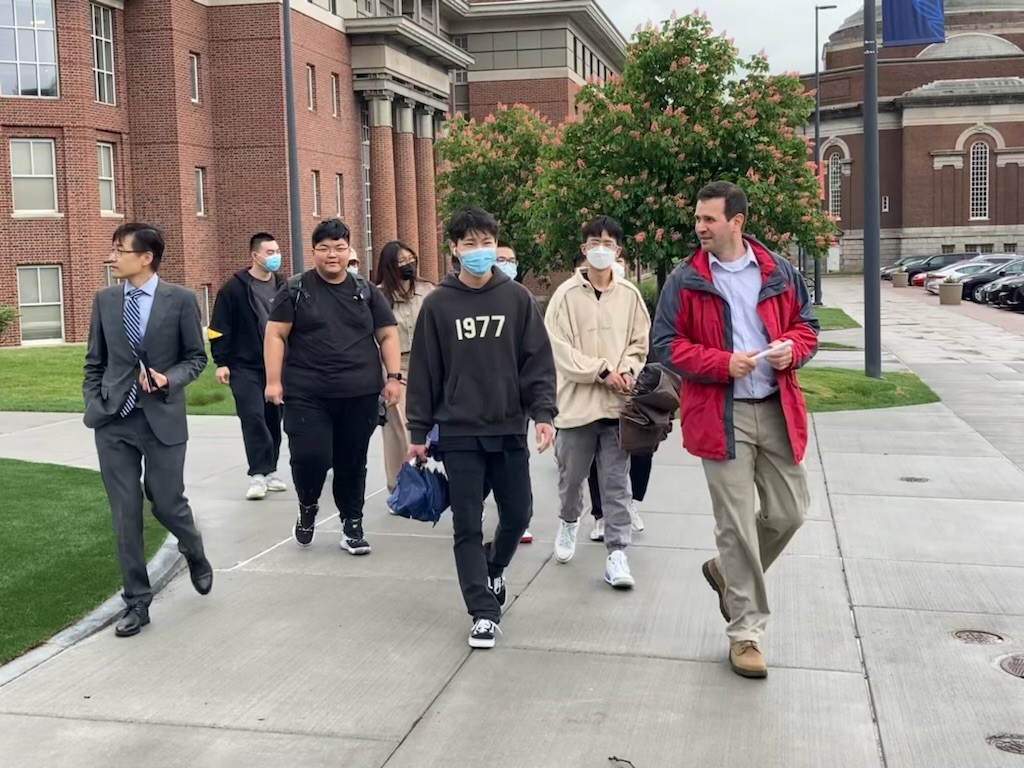 ---
For Chang, obtaining a degree at an American university was a powerful personal goal. On social media, Chang saw his friends attending architecture classes at Syracuse University, and while he wanted the "American university experience" too, he wasn't sure how to get there. Then on Syracuse University's website he found the International Year One (iY-1) Program, a program that provides U.S. education through transitional stages for international students.
"For me, the iY-1 program is the entrance to higher education in the United States," Chang said.
Whether it's an intensive English for Academic Purposes course or a dynamic economics course, each class has acted as a building block to prepare Chang for his time in America. It has allowed him to create his own opportunities and to study subjects he might not have considered, he said.
The structure of iY-1 is not your typical international education program. Before students fly overseas and begin curriculum at Syracuse, students spend the Fall and Spring semesters studying on-site with instructors at their local educational institution and online with Syracuse University faculty.
"The iY-1 Program offers international students a unique entry ramp to begin their higher educational journey," said Ryan O. Williams, associate dean of the College of Professional Studies. "The combination of academic English preparation with credit-bearing courses, and online learning blended with on-ground instructional support in students' home countries, empowers students to overcome language and cultural barriers, benefit from a customized support structure, and acclimate to university life in the United States before they arrive."
"Through iY-1, students are prepared to succeed," Larsen said. "The program offerings and engagements allow students to get accustomed to the rigors of U.S. academic study while they have support systems around them to help prepare for the enormous leap of leaving home to study halfway around the world in a new culture and with sometimes unfamiliar learning approaches."
In the Fall semester, students take two credit-bearing undergraduate level courses coordinated with English for Academic Purposes coursework, which provides students with opportunities to engage in activities in English that encourage critical thinking, problem-solving, and independent learning. In the spring semester, the credit-bearing class load increases and students may choose their track of study leading into engineering, the sciences, business, health professions, and a wide variety of other fields. Then, students spend their summer at Syracuse University. With a first year of study completed, students are supported socially and academically through their transition into the University and campus life. By the end of the summer term, students are ready to join the Syracuse University student body as sophomores.  
"In mid-May, we were delighted to welcome our first cohort of iY-1 students to the Syracuse University campus," Williams said. "For all of us who worked so hard on this project, it was a moment of pure joy to greet the students in person, to introduce them to their new home in Central New York, and to observe how this unique program had transformed the group."
A Trio of Learning Environments Offers Student Support
It's not just the academic opportunity that iY-1 provides. For some international students, attending university in the U.S. can be an isolating experience. With iY-1, students enter a program that honors community. Students travel through the program with a cohort and are provided access to continuous program support by advisors and instructors.
"There is the on-the-ground community in country, the synchronous online community, and the asynchronous online community," said David Patent, online instruction coordinator for International Programs at the College of Professional Studies.
In the Fall 2021 and Spring 2022 semesters, Patent designed, taught and managed the English for Academic Purposes courses. The online synchronous component involved one hour-and-a-half-long class each week taught by the Syracuse University instructor, while the in-person component involved nine hours of on-the-ground instruction at an educational institution in China. Additionally, the course provided an asynchronous online instruction component. The combination of these three learning environments enabled students to receive consistent support and cultivate a community both online and in-person.
---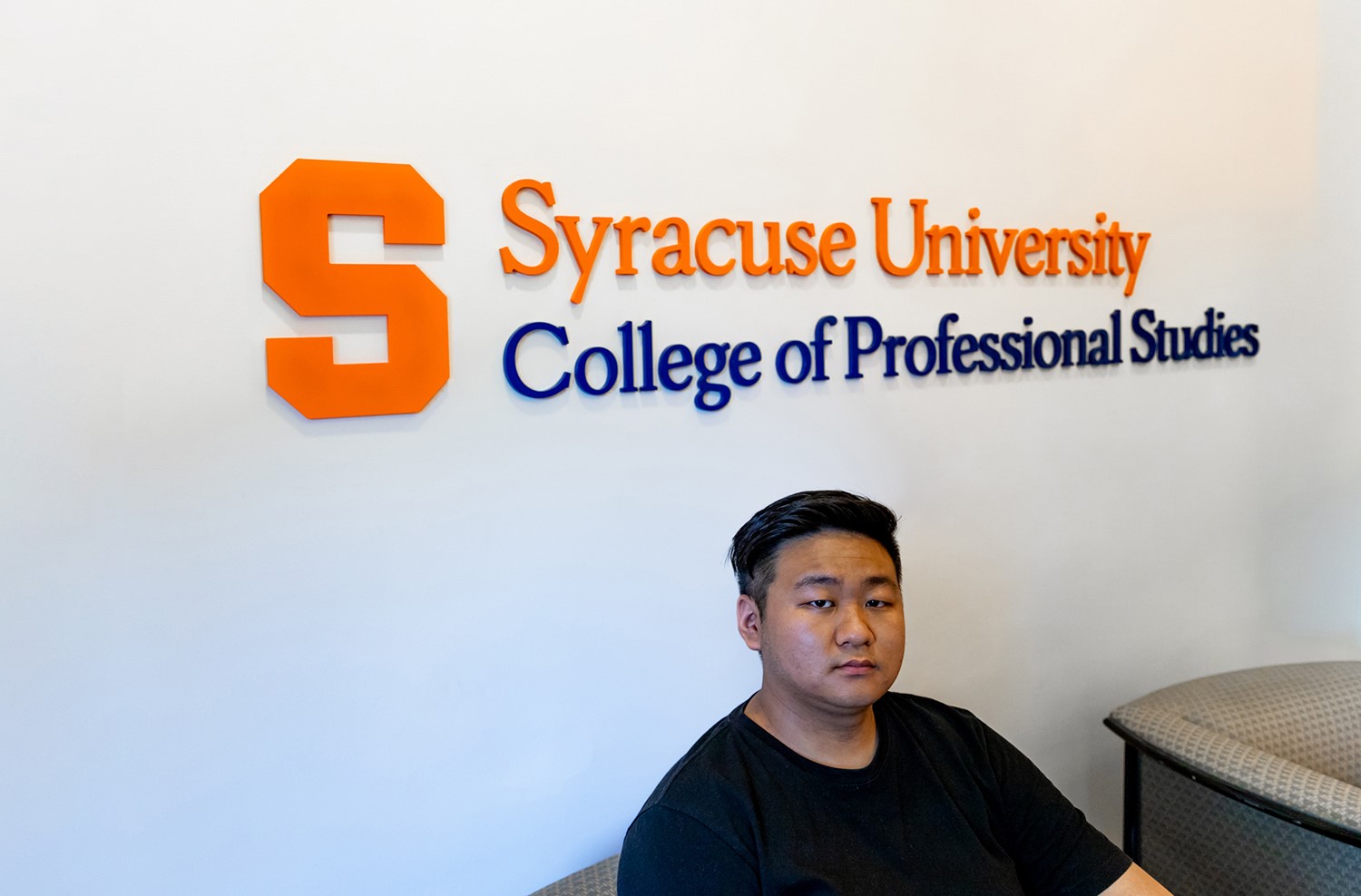 ---
"We spent two semesters in China. The courses included online sessions taught by teachers at Syracuse University and offline courses taught by local teachers," said Jin Chai, an iY-1 student. "All the classes were taught in English, which laid a good language foundation for our next three years of student life at Syracuse University."
Just The Beginning: Global Expansion and Advanced Degrees
Although iY-1 is currently only available to students in China, the program plans to extend to teaching centers in a range of countries.
"Interlearn is growing with Syracuse University and our partners worldwide. We are building new teaching centers not only in China but also in the Middle East, Africa, Latin America, and South and Southeast Asia. Students in these countries represent the diversity and inclusivity that American colleges and universities highly value. We are working with our partners to reduce the overall cost of programs, and to expand degree options to include a range of associates, bachelors, graduate and professional degrees. Interlearn is excited about the opportunity to meet the new challenges and opportunities this expansion will allow, and we are proud to be a part of building for Syracuse University an expanding international presence and an ever-growing global alumni base," Larsen said.
To learn more about iY-1, visit professionalstudies.syracuse.edu/academics/international-programs/international-year-one-iy-1-program.
---
About the College of Professional Studies
The College of Professional Studies is a global, inclusive and future-facing college, providing access to diverse students and learners seeking a Syracuse University degree, credential, certificate or education experience.
About Interlearn, Inc.
Interlearn is a global education company committed to expanding access to quality higher education through transformative teaching and learning.
By Hope Alvarez