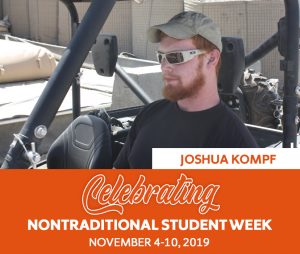 Resilient, driven, dedicated, resolute and courageous are just a few words to describe University College student Joshua Kompf. As an Upstate New York native, Kompf always dreamed of attending Syracuse University, but serving our country delayed that dream. Kompf entered the United States Army at age 18 and, through hard work and determination, moved up the ranks to become a Green Beret—a member of the Special Forces.
Kompf had many responsibilities as a Green Beret, including interacting, training, and leading men from foreign armies into combat. "We are sent to some of the worst places in the world, usually only a few men strong, to share our knowledge and skills of warfare with people who lack the ability to defend themselves," explains Kompf. "The leadership qualities and abilities I took away from my time in the U.S. Army will undoubtedly contribute to my success as a student." Kompf believes that to be a great leader one must continuously learn and grow from both their successes and failures.
After his service in the Army, Kompf applied the leadership skills he learned and ventured into the small business world. He then knew it was time to pursue his dream of a college degree. These days, Kompf is working on a bachelor's degree in creative leadership through University College. He's now two semesters into the degree and has been able to interact with students from all walks of life. He's learning how the coursework is applicable to his future goal of re-entering the small business world.
"The B.P.S. in Creative Leadership degree automatically lined up with my goals and prior leadership roles and experiences," says Kompf. "Being a family man and having an array of other responsibilities, I knew I couldn't attend Syracuse full time. However, part-time with UC allows me to easily manage my both my personal and professional life."
Kompf's family is proud of his decision to pursue higher education and as a first-generation college student, graduating from Syracuse University will be Kompf's second greatest accomplishment in life—after his service in the Army as a Green Beret.