Syracuse University's College of Professional Studies celebrated the Class of 2023 on Thursday, May 11, at its 75th annual Convocation Ceremony. Fifty-eight students, in total, were individually recognized for completing their program of study in 2023, representing eight schools and colleges and 20 majors within the University.
Dean Michael Frasciello began the night applauding the graduating class for their high achievements. Keynote speaker Mirza Tihic, College of Professional Studies faculty member, challenged the graduates to use their education to make a positive impact in the world. Tihic also remarked on the importance of "staying human" in this increasingly digital world by enacting a concerted effort to build and maintain relationships. "Please don't forget the people that helped you get here, your friends and family members. Maintain and cherish those relationships," Tihic said.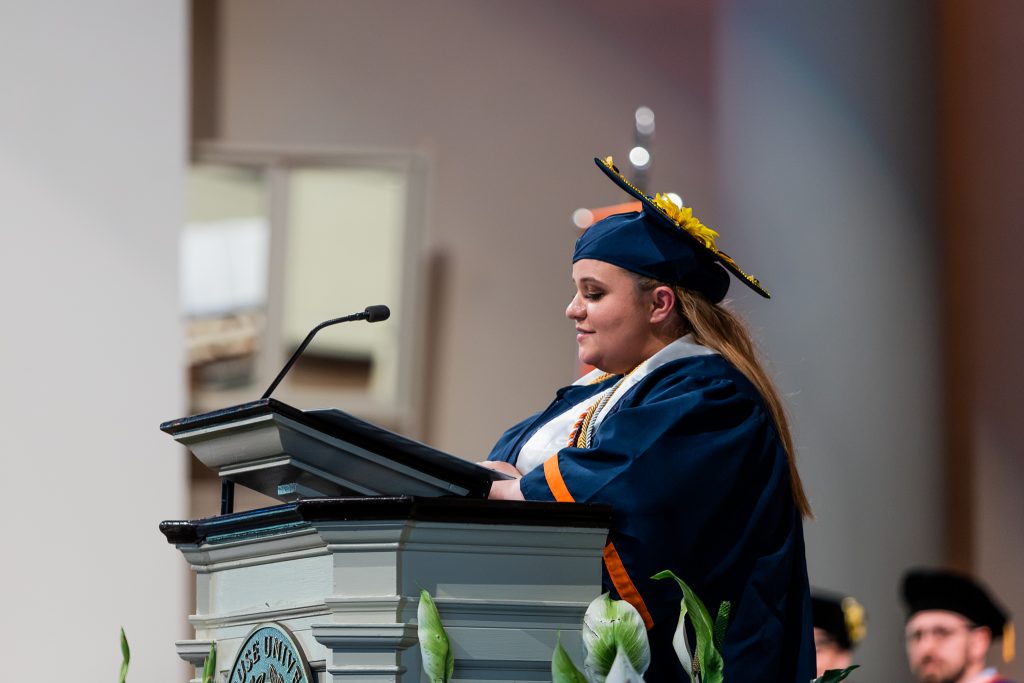 Tamrie Oliver, creative leadership bachelor of professional studies graduate, served as student speaker. Oliver recounted her life experiences that exemplify the term "nontraditional." As a full-time single mother, full-time worker and part-time online student, Oliver cites her support system and unwavering determination to break out of the "stuck" feeling she found herself in for many years. Hoping to serve as encouragement to fellow students, Oliver urged "anyone that feels stuck or feels being nontraditional isn't the way to go, I hope you find comfort and inspiration in my story."
Celebrating Academic Achievements
Ten students were named as prestigious Alumni Scholars. Each of these bachelor's degree candidates earned a minimum GPA of 3.9. The class of 2023 Alumni Scholars are Michael Crandall, Joseph Fernandez, Edward Furcinito, Scott Howard, Joshua Kompf, Tamrie Oliver, Andrew Ostrander, Timothy Sullivan, Dania Tompkins and Cherri Wells.
This year, the Nancy C. Gelling Award, which is given annually to part-time students who achieve the highest overall grade point average for a first bachelor's degree was awarded to three students graduating with a perfect 4.0 grade point average; Michael Crandall, graduating with bachelor's degree in Creative Leadership, Edward Furcinito, graduating with a bachelor's degree in Knowledge Management, and Scott Howard, graduating with a bachelor's degree in Liberal Studies. This is the first time in the history of the award that the College of Professional Studies recognized multiple students.
Additionally, the College of Professional Studies awarded the Faculty Excellence Award to Katherine Sosa, Ph.D., a Bachelor of Professional Studies instructor and the Staff Service Award was awarded to the Office of Government and Community Relations. The College of Visual and Performing Arts awarded George Lambert the Sylvia Wyckoff Award for outstanding academic achievement. The David B. Falk College of Sport and Human Dynamics awarded Aglaeth Vazquez the Hortence Cochrane Award for outstanding academic achievement.
Honoring a Collaborative Community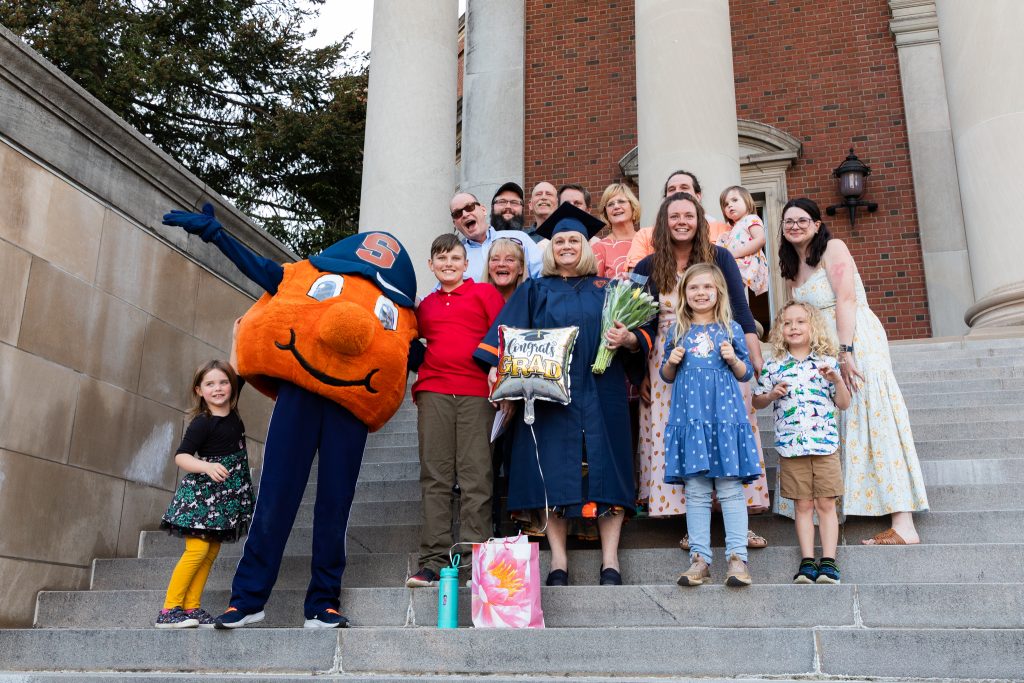 The College of Professional Studies was excited to honor three current staff members who joined the class of 2023 graduates; Margaret Thompson, database administrator, Cherri Wells, online student success advisor, and Rich Pitzeruse, educational technologist.
For the first time in the College's history, student participants in the iConsult Collaborative and Nanhi Kali student groups were honored for their outstanding leadership skills. iConsult is a university-wide program to build experience for students through real-world client projects involving digital transformation. The 2023 iConsult student graduates recognized were Chakshushri, Manali Ghorpade, Ruchita Harsora, Srishti Sanghvi, Pranav Sheth, Nikita Sirwan and Ankita Vartak. Nanhi Kali is a project of the Mahindra Foundation of India, supporting education for underprivileged girls. The 2023 Nanhi Kali student graduates recognized were Chakshushri, Sagarika Barde, Sanjana Dubey, Ashitosh Gupta, Ruchita Harsora, Rahul Khairnar, Sahaj Kandelwal, Aishwary Patel and Nidhee Patil.
The ceremony was immediately followed by a reception on the quad.