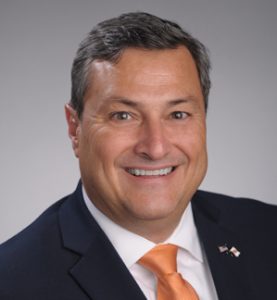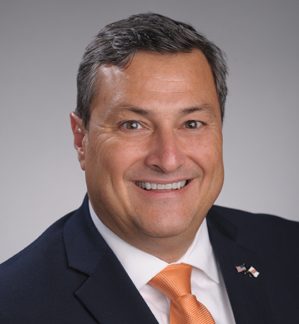 Jeff Comanici has been an active member of the Syracuse University community — as a student, alumnus and employee — since he graduated from the Martin J. Whitman School of Management with a Bachelor of Science in Marketing and Finance in 1988. He is currently pursuing a Master of Public Administration through the Maxwell School of Citizenship and Public Affairs.
Serving as Executive Director of Post Traditional Advancement for the College of Professional Studies since 2019, Jeff reports to the Dean of the College and the University's Vice President of Development. His role includes creating and implementing strategy with multiple units across campus to engage post traditional alumni; increasing exposure of the College at key University and Central New York community events; and securing funding to enhance access and support for students globally who seek an education at Syracuse.
At Syracuse University, Jeff previously served as Assistant Dean for Advancement for the College of Visual and Performing Arts from 2006 to 2015. He also held positions as Director of Development for Major Gifts in the University's Office of Development and as Associate Director of Development for the School of Information Studies.
Jeff held additional professional leadership roles within Central New York at two major institutions. From 1999-2006, he served as President and Executive Director of the Syracuse Symphony Orchestra, then the largest cultural/performing arts organization in the region, where he had also served previously as Director of Development. Before returning to Syracuse University in his current position, Jeff served as Director of Philanthropy for the Crouse Health Foundation, cultivating engagement in and major funding support for one of the area's leading hospitals.
Community service is vitally important to Jeff. Since 2007, he has been a member of the Board of Directors for Oakwood Cemetery, for which he currently serves as Board President. He previously has been a Board member for DeWitt Community Church; Komen Race for the Cure; Vera House Foundation; and Consortium for Children's Services. He was also Chapter Advisor for Sigma Alpha Epsilon Fraternity's Housing Corporation Board.
Jeff's professional affiliations include the University Professional and Continuing Education Association; the Council for the Advancement and Support of Education; and Leadership Greater Syracuse, of which he is a graduate. His campus involvement includes the Syracuse University Leadership Team and Syracuse University Faculty/Staff Giving Committee. He also serves as a Conversation Leader for the College's English Language Institute.