How to Get Involved in the iConsult Collaborative at Syracuse University
Active Syracuse University Student: You must be matriculated into a Syracuse University degree program with active status in order to become a part of an iConsult Collaborative Project Team.
Time Commitment: We expect a minimum of 5-10 hours per week from iConsult project team members. This means, on average, one or two hours per day. Students are expected to fulfill this commitment, though you can concentrate hours during a particular part of the week to avoid conflict with your class work. Project team members must attend meetings of the team, as well as meetings with the project Client when team members are expected. We expect project team members to prioritize project work as second only to class work.
Compensation: Project team members are unpaid, but you will gain valuable experience working on real projects that can be listed as real work experience on your resume. Project team members are considered to be part-time employees of the iConsult Collaborative at Syracuse University, and the iConsult office will verify this employment for future employer background checks.
Application Process: You may either apply for a specific project team opening (see Job Board below), or you may register in general to be considered for an iConsult Collaborative opening as it comes available (select the "Register with the iConsult Collaborative" button).
Rolling Application Timeline: We accept student applications year-round because we always have active projects. Some time periods require more students than others, but there is no deadline for application. We hold all applications for review when any project team opening occurs. Students who have previously applied are always considered first when a new team member is needed for a project.
Selection for a Project Team: Our teams are staffed on an as-needed basis. Therefore, we may not have an opening on a team at the time you apply. However, all applications are reviewed, and students are placed on project teams based upon their interests and qualifications. Some project team roles will require experience in certain areas. Other roles can be more general, or they can be for students with little or no experience in a particular area. We try to mix students with more or less experience in order to establish a peer learning environment. Students are interviewed for positions on project teams.
Evidence of Active Participation – Digital Badges: Project team members who honor their commitments to their projects, demonstrating both quality work and professional attitude, will earn an official SU/iConsult digital badge confirming their role. Four digital badge levels may be earned: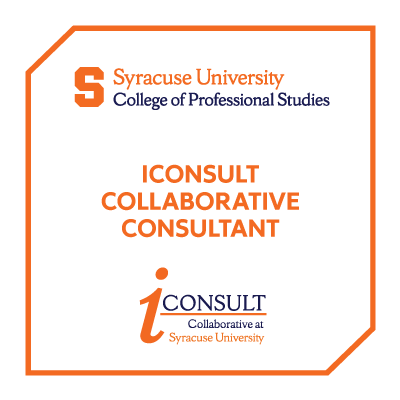 Consultant – Confirms active participation on a project team for three months or one project completion.
Lead Consultant – Confirms outstanding performance on a project team
Project Lead – Confirms active role as a team leader for a specific project
Program Manager – Confirms active role as a Program Manager, a paid member of the Project Management Office (PMO) for the iConsult Collaborative Program.
---
iConsult Job Board
---
Frequently Asked Questions
---
Hear from our consultants
"My biggest takeaway from working with iConsult so far has been the growth I have had when it comes to finding solutions to complex issues while working on any project. Furthermore, meeting with clients and new people helped me get in touch with their creative perspectives to engage with their ideas and help them find solutions which in turn helped develop an inclination towards problem-solving and project management."

– Chakshushri
"iConsult provided me an opportunity to learn and as well as apply newly acquired skills to solve problems arising in the real world. I am having a good time from attending meetings to solving tasks assigned. It is a great platform that allows us to make friends and network with peers."

– Akansha Achukola
"I gained real-world experience as a consultant, had the opportunity to apply my talents to a project, learned new things along the road, and had the opportunity to network."

– Karan Someshwar