Hear more from students like you!
Lucille Murphy
For much of her adult life, earning a college degree was a distant dream for Lucille Murphy. That goal became even more remote when the mother of two gave birth to triplets in 1998. With five children to care for, she figured she'd put that dream on hold, at least until the triplets were in kindergarten.
"I wanted to give my children the gift of time," she explains, "but I also wanted to lead my family toward education. And I knew that if I wanted to do that, I needed to lead myself and finish my degree."
When she sent the three boys off to kindergarten, Lucille started attending classes at UC. "But I still needed to be an employee, mother, wife, daughter, and sister," she recalls. "I learned that time passes, and what we do with these pockets of time is up to us. When one shares their dream and goals with the important people in their lives, they support you and become springboards to your success."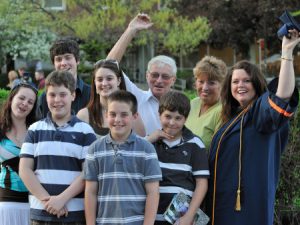 Lucille persevered through years filled with classes, tests, and papers, punctuated by work, family dinners, kids' activities, and scores of commitments to all the different aspects of her life. Fitting it all in was made possible, in part, because of UC's flexible format classes. "I took every kind of class offered—online, weekend, condensed, and accelerated, along with campus classes," she says. Even after the economic downturn forced her husband to take a position in Chicago, she was able to make it work. "Everyone pitched in. Without constant help from my family, none of this would have been possible."
Lucille's educational journey culminated in a bachelor's degree in Organizational Leadership in May 2011. Surrounded by the loved ones who helped make it possible, Lucille accepted her degree as an Alumni Scholar, with one of the highest GPAs in the class. "My degree should have all of our names on it, because I believe we all graduated on that beautiful May day," Lucille says.
View more College of Professional Studies student testimonials