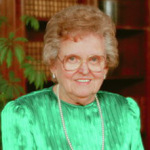 The Mildred Eggers Award was established in honor of the wife of the late Chancellor Melvin A. Eggers. In gratitude for her generous support of the Women of the University Community (WUC) , this award is presented to students in continuing education studying part-time through the College of Professional Studies to complete a degree program or to attain additional educational goals.
Presented by the Syracuse University Women's Club at its annual luncheon, this scholarship is reserved for women who are matriculated in a bachelor's degree program and taking at least six credits the following semester. Based primarily on academic merit with financial need considered.
Who is eligible?
Qualified women students who are matriculated for a bachelor's degree and plan to carry at least six credit hours in the semester following the award.
Application Information
Qualified students are reviewed by the Scholarship Committee, and nominees are forwarded to the Women's Club Board. Winners are contacted by the board and recognized at the Women's Club luncheon, typically held in April.