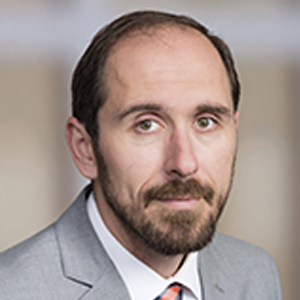 Mirza Tihic is an assistant teaching professor at the College of Professional Studies and adjunct professor of entrepreneurship with the Department of Entrepreneurship and Emerging Enterprises (EEE) at the Whitman School of Management at Syracuse University.
Tihic continues to serve in a research role as a member of the Institute for Veterans and Military Families (IVMF) Research and Analytics team, where since 2020 he has been playing a leading scientific role in the launch and day-to-day management of the National Survey on Military-Connected Entrepreneurs initiative, a multi-year study of military-connected (veteran and military spouse) entrepreneurs.
Between 2015 and 2019, Tihic was the Assistant Director for the Office of Vice Chancellor for Veteran and Military Affairs. He oversaw efforts and initiatives supporting veterans, military members, and members of military families on campus at Syracuse University. Tihic had served in a variety of administrative roles at Syracuse University's Institute for Veterans and Military Families. Here he supported programs and initiatives directed at education and entrepreneurship for veterans, and managed program support services.
Tihic previously served as Program Director for the Falcone Center for Entrepreneurship at SU's Martin J. Whitman School of Management. There he supported the Entrepreneurship Bootcamp for Veterans (EBV), inclusive entrepreneurship through Start-Up NY and many more.
Tihic's scholarly research focuses on the intersection of entrepreneurship and disability. His research aims to expand the traditional barriers related to small business services and include the complete entrepreneurial ecosystem of people with disabilities and veterans. An interest of Tihic is understanding the broader social network and its role in influencing entrepreneurial decisions given the disability-related challenges they face. A presentation of this work was well received at the 2019 and 2022 Babson College Entrepreneurship Research Conferences, and the paper associated with the presentation won the 2019 G. Dale Meyer Best Paper Award and was published in the Frontiers of Entrepreneurship Research.
Tihic is involved with several start-ups. He is co-founder of Syracuse's North Side Learning Center, a family literacy center that helps immigrants and destitute individuals in the community. He also is part of his family's real estate business.
Originally from Bosnia, Tihic holds a bachelor's degree in mathematics, master's in neuroscience, MBA, and a PhD from Syracuse University.